Transcutaneous Electrical Spinal Stimulation to Restore Upper Extremity Functions in Spinal Cord Injury
Principal investigator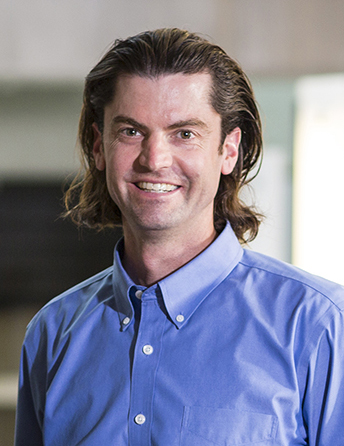 Chet Moritz PhD
Co-Director, Center for Neurotechnology
Cherng Jia and Elizabeth Yun Hwang Endowed Professor
Associate Professor of Electrical and Computer Engineering,
Rehabilitation Medicine, and Physiology & Biophysics
Research team
Co-Investigator: Christoph Hofstetter MD, PhD, UW Medicine Department of Neurological Surgery
Research Assistant: Fatma Inanici MD, Graduate Student, UW Medicine Rehabilitation Sciences
This study is now recruiting participants.
Study Contact: Fatma Inanici MD
ClinicalTrials.gov Identifier: NCT03184792
Learn more about this study on our website.
Study description
Stimulation of the spinal cord may induce the growth and reorganization of neural pathways leading to the re-animation of paralyzed limbs. Growing evidence indicates that electrical spinal cord stimulation improves motor functions immediately via modulating the excitability of spinal circuitry in patients with spinal cord injury. Recently, a novel, non-invasive, well-tolerated and painless transcutaneous electrical stimulation strategy was demonstrated to be effective for improving lower limb motor function in healthy individuals and in patients with spinal cord injury. The investigators hypothesize that transcutaneous cervical electrical stimulation can enhance conscious motor control and functions of hand and arm via neuromodulation of the spinal network.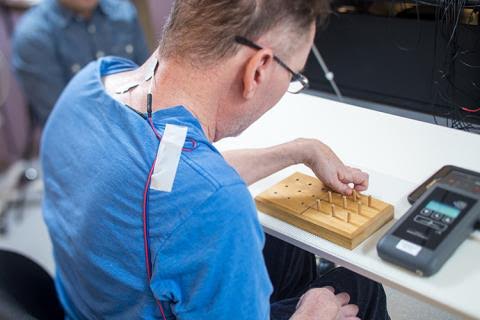 Transcutaneous stimulation on upper extremity. Photo by Matt Hagen.
This study is a prospective efficacy trial of transcutaneous cervical electrical stimulation for improving upper limb function in patients with traumatic or degenerative cervical spinal cord injury. Transcutaneous electrical spinal stimulation device is not regulated by the United States Food and Drug Administration for the treatment of spinal cord injury.
The interventions include either transcutaneous cervical spinal electrical stimulation combined with physical therapy or physical therapy only. The order of the interventions will be randomized for each subject in a delayed cross-over design. The total duration of the study is six months, including four weeks baseline measurements, eight weeks intervention and 12 weeks follow-up. Both immediate and lasting improvements in hand motor and sensory function via transcutaneous cervical spinal stimulation will be evaluated.