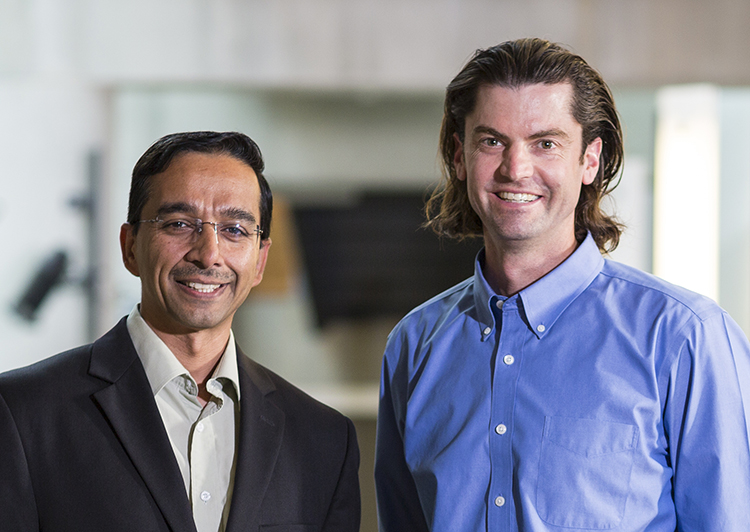 Welcome to the Center for Neurotechnology (CNT). Founded in 2011, the Center got its start as one of several Engineering Research Centers (ERCs) across the country funded by the National Science Foundation. Our headquarters are located at the University of Washington (UW) in Seattle, and our core partners are at the Massachusetts Institute of Technology and San Diego State University.
CNT members are engineering new ways to help the brain and spinal cord heal and recover from injury in a unique innovation ecosystem that includes researchers, educators and industry affiliates at multiple institutions and companies worldwide. We work together, with the guidance of our advisory boards, to develop and distribute neurotechnology that is revolutionizing the treatment of stroke, spinal cord injury and other debilitating neurological conditions.
Our researchers are discovering and applying principles of engineered neuroplasticity, which is a new form of physical rehabilitation that uses engineered devices to restore lost or injured connections in the brain, spinal cord and other areas of the nervous system. At the same time, CNT neuroethics researchers are pioneering a framework for deep integration of ethics into neural engineering research and education, and we are doing this in close partnership with neurotechnology end-users.
The CNT offers a wide range of classes and programs for pre-college, undergraduate and graduate students. Our pre-college educational programs are introducing hundreds of K-12 students to the field of neural engineering while we educate the next generation of neural engineers through programs and coursework such as the Research Experience for Undergraduates, the UW Minor in Neural Computation and Engineering, and the UW Graduate Certificate in Neural Computation and Engineering. CNT students and program participants learn in a collaborative, interdisciplinary environment that challenges them, introduces them to new people and ideas, and prepares them with the knowledge, skills and connections they will need to be leaders in STEM fields.
We are committed to the inclusion of disability perspectives in the design of devices intended to benefit people with disabilities, as well as promoting diversity internally and in ERCs nationwide through initiatives like AccessERC. We also partner with the UW DO-IT (Disabilities, Opportunities, Internetworking and Technology) program to broaden participation in science, technology, engineering and mathematics (STEM) by individuals and groups that are traditionally underrepresented in these fields.
We invite you to explore our website and learn more about our research projects, education efforts, industry collaborations and diversity programs. Read about work at the center through feature stories and blog posts on our website. Subscribe to our monthly newsletter, and find us on social media (Twitter / Facebook / LinkedIn) to stay connected and find out what's new at the CNT.
We appreciate your interest and support. Together, we will improve health and function by engineering neural devices that make a profound, positive difference in people's lives.
Rajesh P.N. Rao, University of Washington
Co-Director, Center for Neurotechnology
Cherng Jia and Elizabeth Yun Hwang Endowed Professor of Computer Science & Engineering and Electrical & Computer Engineering
Adjunct Professor, Department of Bioengineering
Chet T. Moritz, University of Washington
Co-Director, Center for Neurotechnology
Cherng Jia and Elizabeth Yun Hwang Endowed Professor
Professor of Electrical & Computer Engineering,
Rehabilitation Medicine, and Physiology & Biophysics