Transcutaneous Spinal Stimulation and Exercise for Locomotion
Principal investigator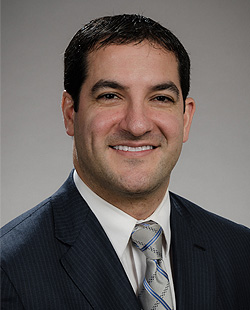 Rajiv Saigal MD, PhD, MSc
Assistant Professor, UW Medicine Department of Neurological Surgery
Adjunct Assistant Professor, UW Bioengineering Department
Research team
Co-Investigator: Chet Moritz PhD, Co-Director, Center for Neurotechnology
Research Assistant: Soshi Samejima MS DPT, Graduate Student, UW Medicine Rehabilitation Sciences
This study is now recruiting participants.
Study Contact: Soshi Samejima
ClinicalTrials.gov Identifier: NCT03509558
Study description
Growing evidence indicates that electrical spinal cord stimulation improves motor functions both immediately and over the long term via modulating the excitability of spinal circuitry in patients with spinal cord injury. Recently, a novel, non-invasive, well-tolerated and painless lumbosacral transcutaneous electrical stimulation strategy was demonstrated to be effective for improving lower limb motor function in participants with spinal cord injury. Our current project, cervical transcutaneous electrical stimulation and intensive exercise for arms and hands, is also revealing significant improvement of upper extremity function. Additionally, the subject and caregiver noted that stair climbing ability has been substantially enhanced starting from the first week of cervical stimulation treatment and continues to date.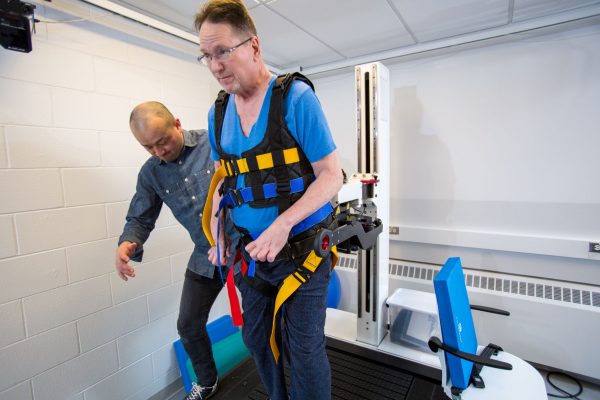 Transcutaneous stimulation on lower extremity. Photo by Matt Hagen.
This study is a prospective efficacy trial of combined transcutaneous cervical and lumbosacral electrical stimulation with intensive physical therapy for improving locomotion in people with incomplete tetraplegia and paraplegia.
This experiment design consists of two to four phase intervention program including one-month physical therapy (PT) only (A) followed by one-month spinal stimulation with PT (B). Between each intervention, washout periods of up to one month may be used to determine any after-effect of the interventions. The AB or BA interventions will be repeated if the functional improvement does not reach a plateau during the first two months of interventions. Sessions will last up to two hours/day, two to five days/week for each arm. Both immediate and lasting improvements in lower extremity function and autonomic function via transcutaneous spinal stimulation and intensive physical therapy will be evaluated.