The third annual Center for Sensorimotor Neural Engineering (CSNE) Hackathon was recently covered by Q13 Fox News. Hackathon organizer and University of Washington (UW) Bioengineering PhD student, Nile Wilson, is featured in the video report. Watch the Q13 Fox News video.
The CSNE Hackathon is a university student-run competition that gives participants an opportunity to engineer innovative neural technology with potential for real-world clinical and commercial applications. Participating students came from the UW, the Massachusetts Institute of Technology, San Diego State University and other CSNE-affiliated partner institutions and programs across the country.
Pictured below is this year's winning Hackathon project team, DropStop (with their 3-D printed brain trophies). DropStop created an interactive rehabilitation system for patients with foot drop, a common side effect of stroke, spinal cord injury and certain hip surgeries. The device the team designed collects electromyogram (EMG) signals from leg and foot muscles and translates them into biofeedback in the form of light emitting diode (LED) output. This line of blinking lights on a circuit board serves as guidance the patient can use while exerting effort in their physical therapy. While engaged in leg and foot exercises, the user can observe through the LED output that muscles in their dropped foot are indeed activating, even if they can't visibly see those muscles move.
Image: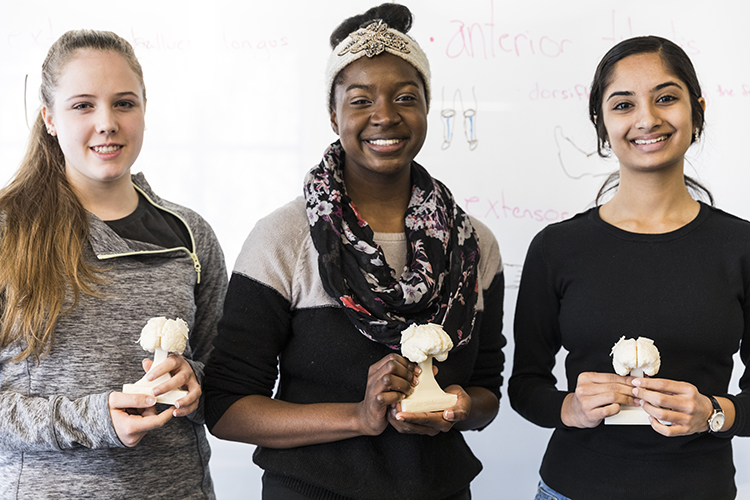 Date of Publication:
Tuesday, February 14, 2017