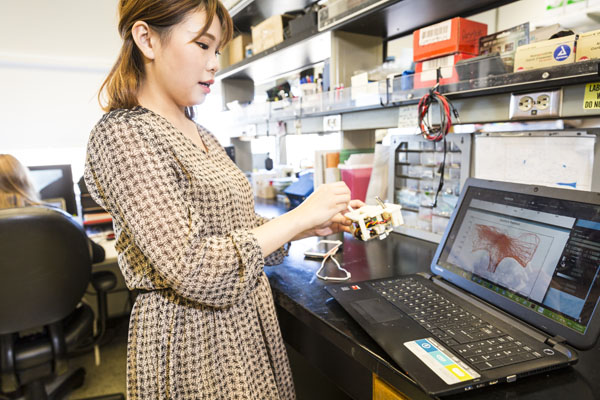 When starting college, most high school students have broad ideas about their intended major or future career. However, the high school students who spend a summer at the Center for Sensorimotor Neural Engineering's (CSNE's) Young Scholars Program (YSP) have already demonstrated a strong interest in neural engineering and a desire to pursue higher education in science, technology, engineering and mathematics (STEM). Rising University of Washington (UW) freshman and current YSP participant, Eun Tae Ki, developed an interest in neural engineering when he attended lectures by Dr. Eric Chudler, Dr. Chet Moritz and Dr. Tom Daniel through Math Science Upward Bound (UW STEMsub), a UW program that supports potential college students as they prepare for higher education in STEM.
"Imagine you're not using a normal output like your muscles to move things around physically. Rather, you're just thinking about it," Eun Tae said. "It's like a fantasy, and I never thought that neural control of physical objects could exist in real life. I realize now it's been around for a long time, but I never knew its existence until recently. I wanted to learn more about it, and make it more efficient and applicable to help people."
Since 2012, the CSNE has offered the YSP, a summer research opportunity for eager high school students interested in exploring neural engineering. YSP participants learn about the field by actively contributing to research, which allows them to explore some of the potential applications of their high school STEM coursework beyond the classroom.
"Most students have not been exposed to interdisciplinary and cutting-edge fields like neural engineering," said Kristen Bergsman, the former pre-college education manager and current engineering education research manager at the CSNE. "High school is a really critical time for that exposure."
This year's nine participants make up the largest YSP cohort yet. In the program, the YSP participants work on an authentic engineering problem in a UW lab. These projects span academic disciplines including rehabilitation medicine, computer science and engineering, and electrical engineering.
"There are very few places like the CSNE, where it's very interdisciplinary. It's a collaborative way for a lot of people at this university to come together and work together," said Patrick Lancaster, a graduate student in the UW Department of Computer Science & Engineering and current YSP mentor. "The YSP allows these high school students to work on a project that can help a lab, along with learning valuable communication skills."
By allowing students to work on authentic research projects, the YSP pulls back the veil on the reality of working in the field of neural engineering. Many YSP participants, including former YSP and rising UW sophomore Hannah Werbel, noticed a difference in the learning approach of their high school classrooms versus the lab setting. 
"In high school classes, there's a right answer and teacher to ask, and there's a right method or procedure. Working in research, there's a problem you have to solve, but there's no solution to it yet," Hannah said. "That's what pushed me to do research in college, knowing that I wanted to do something that involves critical thinking ­­– not following an answer key, not following a solutions manual, [but] being able to work on problems and freely think about them and understand what they are."
While in the research lab, students are encouraged to form their own questions and work independently to develop problem-solving and critical thinking skills through self-learning. By the end of the YSP, the participants present an individual research poster of their findings to the CSNE community and their coworkers, an experience that parallels the process of sharing research at a scientific conference.
Developing critical thinking skills requires practice, but the YSP students aren't alone in the process. The YSP students work directly with mentors like Patrick in the UW BioRobotics Lab. To support the YSP students, Patrick focuses on helping students build a trustworthy skill set and intuition for approaching engineering problems through practice and hands-on application.
"Being in a research lab, they're exposed to the different projects going on. There are critical design choices that they need to make," Patrick said. "Some of [these projects], they are able to think about on their own and successfully do. Other times, we'll have a discussion about which way they should go."
By working directly with mentors ranging from undergraduate students to postdoctoral researchers, YSP students can begin to gauge their interest in neural engineering as a career, and what it takes to get there.
"As a researcher, you have to be able to come up with questions that haven't been asked before," said Thien Nguyen, a rising UW freshman and recent Franklin High School graduate. "How am I going to ask a new question and work toward a thesis paper? With everybody that I meet, I try to ask them how they develop [these skills]. They give me helpful advice, but it seems like it takes time to be a researcher."
For some high school students, this is their first time working in a lab, let alone on a neural engineering project. This experience can help them decide if they want to pursue neural engineering as an area of study or future career.
"Right now, I want to major in neuroscience because of this program. It seems like it's doable," Thien said of his experience in the YSP so far. "It gives me a firsthand experience of what it's like to be in the field. A program like this is a valuable experience for a high schooler, especially for me going into college and looking at different fields of study."
This program also highlights the diversity of academic disciplines that work on neural engineering research. 
"Going into an electrical engineering lab, I thought I would be soldering things and creating circuit boards, but I wasn't. There's so much stuff that you can fit under the umbrella of electrical engineering or any department in general," Hannah said. "There are so many niches that things fit into that aren't broadcast in the broad description of the field."
In addition to participating in lab work, students attend workshops and seminars on topics such as the ethics of animal and human research, scientific communication, and industry. The communications class, taught by CSNE University Education Manager Dr. Lise Johnson, equips students with the necessary skills to succeed as an undergraduate student and post-graduation as a scientist or engineer.
 "YSP is important because it gives students a complete picture of what's it's like to do research and participate in something related to STEM, even if it's not research. If you're involved with industry, all of these things come into consideration," Hannah said. "Being exposed to [research] and having that background helps when you're going to find new research opportunities and participate in things outside of research on a college campus.
The YSP is open to all high school students, and accepted students tend to be upperclassmen in accelerated academic programs like Running Start or International Baccalaureate. Although most students come in with strong foundations in basic science and math coursework, this is often their first experience working in a neural engineering research lab.
The YSP participants for this program are recruited from a large national pool including students in UWSTEMsub, which works with students at Cleveland High School, Chief Sealth International High School and Franklin High School. Some of these students are low income or the first in their family to go to college, or both, and Kristen has worked with these schools to build relationships with the teachers.
The CSNE also partners with the UW Disability, Opportunities, Internetworking, and Technology (DO-IT) Center, which promotes accessibility for students with disabilities in the classroom and the workplace. Hannah discovered the YSP program through DO-IT, and she believes that encouraging students like herself to participate in STEM programs like the YSP is the first step to bring more people with disabilities into the field and give them the skills and confidence to thrive.
"In STEM and engineering, we could promote more [disabled] people going into STEM and engineering, and contributing their ideas and perspective about what is and isn't accessible."
This summer, Nona Clifton started as the CSNE's new pre-college education manager, and she will manage the YSP as part of her role at the Center. Nona is excited to leverage her previous experience working on STEM curriculum with the Washington Global Health Alliance.
"The work at the CSNE is so leading-edge, Nona said. "Students and even faculty teachers who are brought into this level of science at such an early time in this industry really have a chance to be part of the new discoveries and innovation."
Nona and Kristen wanted to focus on cohort building for this iteration of the program, so the YSP students meet after every communications class to clarify the content, discuss each person's progress in their lab, and work on professional development skills like writing a resume. In addition to the support from the education staff, Thien said that his cohort members are always willing to help each other.
"We all work in different labs, so especially when my colleagues and I have problems with computers, we turn to somebody else within YSP who's working with computers in another lab," Thien said. "So far, we're utilizing the mentors and resources at the CSNE, but we're also using each other first. It's awesome seeing how we're able to come and work together at such a young age."
This program helped Hannah develop the confidence to take ownership of her education and leverage her professional connections from the program when she came to the UW as a freshman. During her time in the YSP program, she worked in Dr. Howard Chizeck's BioRobotics Lab, and reconnected with her graduate student mentor this year as a UW freshman. Now, she is working on her own projects in Dr. Chizeck's lab, and the YSP program gave her the confidence to email UW professors and inquire about a research position.
"When people go into college, there's so much that you have to adjust to. If you have previous exposure to research in high school and all the different skills they teach you in the YSP program, you're a step ahead of everyone else," Hannah said. "For me, having that [research] experience in high school and having the confidence to do that [research] is really helpful. I wouldn't have emailed those 10 bioengineering professors for research that next summer if I hadn't done that program."
The YSP participants synthesize their interdisciplinary research project into a culminating presentation. This prepares students to bridge the gap between research and explaining their findings to the general public.
"It's part of that end point of communication. Okay, you've done your research, you've gotten your results, [but] that's not where it ends," Nona said. "The exercise of standing in a long hall, in front of your poster board, answering questions, [and] presenting not only to laypeople but senior scientists — that's pretty real-world."
By the end of the program, YSP students leave with specific experiences and skills they can apply as they move forward in their education and secure jobs in industries that might not exist yet, but likely will once these students graduate from college.
As Nona stated, "Students, educators and scientists working on this [are] getting in on the ground floor of what will be amazing solutions and technologies. It encompasses such a broad spectrum of human effort, but people are working in this very emerging field, [and they] will have amazing opportunities."
The YSP program will run until Aug. 26. For more information about the CSNE and the YSP program, contact Nona Clifton.