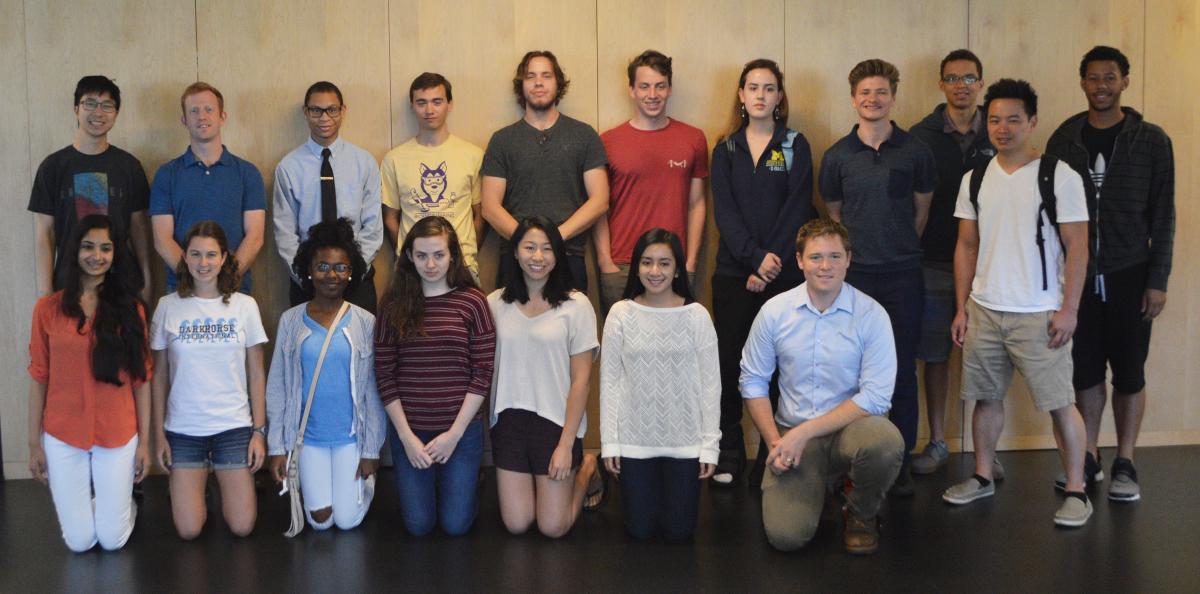 8/15/16 Update: Read about the REU program participant experience at MIT and SDSU.
When Massachusetts Institute of Technology (MIT) sophomore Ben Cary first heard about neural engineering, he recalled popular science fiction stories about artificial intelligence and brain-computer interfaces (BCIs), like those described in the novel "2001: A Space Odyssey" and the media franchise "Ghost in the Shell." To Ben and many others, these stories described futuristic technology that seemed limited to the realm of book pages or movie screens. In reality, these innovations can come to life through current research in the field of neural engineering.
"Once you find the field of neural engineering, it's kind of impossible not to get interested in it because there are so many applications," said Alisha Menon, an electrical engineering student at Arizona State University. "We're not to a point where we can do [what we dream of] yet, but it's just really interesting to think about what could be done with this technology. I wanted to be a part of it."
Sensorimotor neural engineering uses both traditional and newly-invented engineering techniques to repair or augment the human nervous system through tools like BCIs ­– devices that establish communication pathways between the brain and other external activities, such as control of a cursor or a prosthetic limb. BCI technology can support people with spinal cord injuries or neurodevelopmental disorders such as Alzheimer's disease and dementia, helping them interact with the world.
Now, instead of just imagining the possibilities of technology that connects brain and computers, undergraduate students can work in a hands-on environment on engineering projects in this field. Through the Center for Sensorimotor Neural Engineering's (CSNE's) Research Experience for Undergraduates (REU) program, students like Ben and Alisha are working in research labs at the University of Washington (UW) campus that explore how the brain adapts and processes information through implantable devices.
"Here, we're working on interesting problems that will directly affect people's lives," Ben said. "I think that's true for everyone's project."
This 10-week summer program exposes undergraduate students to neural engineering research, and how it can help people heal, feel and move again. Applications are open to current students at U.S. colleges and universities, and participants are required to attend the program full-time. The participants are chosen from a variety of universities and academic backgrounds. Assigned lab work and an engineering project are the backbone of the REU program, but the CSNE also focuses on integrating these students into every part of the research process.
"Part of what the CSNE is about is training the next generation of engineers and making them ready to go into industry and academia," said Dr. Lise Johnson, the CSNE university education manager. "This is a big part of the vision."
The opportunity to receive funding, gain experience and learn how to communicate meaningful work with peers are hallmarks of this program.
"These programs (like the REU) are super valuable because they open up doors for a lot of students. Not everyone has access to every single field that they might be interested in [and opportunities to explore]," said Nile Wilson, a former REU participant and current UW/CSNE graduate student.
Winter Beaton is a junior majoring in biology at Spelman College and a current REU participant considering medical school and graduate school as post-undergraduate options. The REU has helped her gain a better idea of what it's like to do engineering research, and develop more confidence in using programs like MATLAB, Adobe Illustrator and other software for data analysis and presentations.
"At Spelman College, I haven't been exposed to neural engineering at all. That's why I really thought that this program would be very beneficial to me, because my school doesn't have this type of program," Winter said. "I've been exposed to the standard biology curriculum and not necessarily engineering."
Each student in the REU program is currently working on projects in one of 19 CSNE-affiliated labs at the UW, San Diego State University and MIT. These labs are housed in a variety of academic departments, ranging from rehabilitation medicine to electrical engineering.
"It's very interesting to see the different divisions of engineering. That's why I can definitely see myself doing something like this in the future," Winter said. "If I want to pursue medical school, I can always focus my research or have a central concentration on something dealing with spinal cord injuries."
Students also receive a $5,000 stipend for their participation, which can be used at the student's discretion.
"Last year, I was working a regular summer job and not necessarily gaining experience or insight into what I wanted to do in my career," Winter said. "Now, I'm doing research, and gaining all of these skills while still being able to make money that will be beneficial to pay for school and buying books. It's a great incentive for the program, but all of the things that come with the program are more important. The stipend is just a bonus."
Giving students authentic engineering projects:
The REU participants are chosen for their proven critical thinking skills, demonstrated through their undergraduate coursework and related educational experiences. However, working in a lab can be vastly different from a classroom experience because the students are tasked with identifying novel solutions to real engineering problems. For example, Ben is currently working in the Sathe Lab, and his project assignment is to streamline tests for a microprocessor used to interpret brain signals.
"If you can start thinking critically and learn how to approach problems so you're not expecting to be given the next steps, that's incredibly important," said Katherine Pratt, a UW/CSNE graduate student and mentor to REU participants in Howard Chizeck's BioRobotics Lab. "Otherwise, you just end up with a bunch of people that go out into the world ever year without realizing that the answer is not in the back of the textbook or something that's going to be given out by their boss. It's something they have to figure out by themselves."
The REU program gives students the opportunity to work independently on projects, with support from their mentors or the lab's principal investigators (PI) when needed. Some students have never been asked to generate their own research questions until participation in this program. To encourage self- learning, the mentors guide students to discover answers for themselves and learn how to trust their own judgment – a necessary skill in research and in life.
"Getting that exposure to being forced to work more independently based on given resources is really important because a lot of work as undergraduates is more about learning concepts that you want to build on later," Nile said. "One of the key things in graduate school is not just knowledge, since you can always refresh on that, but the ability to critically think."
Developing well-rounded scientists:
Unlike other research programs that only include full-time lab work, the REU program focuses on fostering well-rounded scientists and researchers. Sharing information with researchers and the general public effectively requires strong communication skills and careful consideration of the ethical implications of their projects. For this reason, students attend weekly seminars where they can consider the applications of their project once they've identified a potential solution. Students hear from guest lecturers who are leaders in the field of neural engineering like Dr. Sara Goering, a neuroethicist and UW professor in the UW Department of Philosophy, and Dr. Scott Ransom, the CSNE industry liaison officer. Seminar topics range from entrepreneurship and use of animal and human research subjects to neuroethics, an area of study at the CSNE that focuses on the ethical implications of technology used to reconnect the brain and body. Ultimately, these seminars provide a broad and encompassing view of neural engineering and its applications in both academia and industry.
"By the time they're done, it's not just that [the students] have had a research experience," Katherine said. "They've had time in the lab and [exposure to] a network that they can communicate with, and they're much stronger as a whole person, not just as a scientist."
All of these educational efforts create an enriching program that exposes students to every facet of neural engineering and its potential applications.
"With this program, you do the research and get to talk to the people that you're doing the research for and the people that are going to use your research," Ben said. "There's more depth of understanding that comes with the seminars [as well]."
Being able to hear from the CSNE's industry affiliates was particularly meaningful for Ben, who is interested in pursuing an electrical engineering internship.
"It's pretty difficult to get your foot in the door into industry in electrical engineering because it's relatively competitive," Ben said. "I've gotten my foot in the door, so the rest of it won't be that challenging … No other program that I've heard of has undergraduates interfacing with people in industry."
In addition to research projects, the students also explore best practices in scientific communication through a weekly class taught by Dr. Johnson.
"When I was in undergrad, we never talked about scientific papers," Dr. Johnson said. "There's a bigger push to give people more experience writing in the style of a journal and more experience reading journal articles. It's such a big part of science. Because those skills are important, we want to give people more practice."
One of the first topics in Dr. Johnson's scientific communications class is how to write a research abstract. Topics that follow focus on building students' oral and presentation skills, which prepares students for their final class presentations.
Ben enjoys the communications class and the opportunity to learn how to interact with other researchers and the general public, particularly since he hasn't taken a lot of coursework in scientific communication at his undergraduate institution.
"I've done research in a neurobiology lab, and it was very focused on getting data. One thing that I didn't learn is communicating the findings," Ben said. "It's really important because if you have data, you can't use it unless you know what it means or can communicate its meaning properly. The [REU] program is really interesting because you can get an idea of science communication [best practices] from a very early standpoint."
The REU participants also attend the CSNE practitioner and end-user roundtables, where they hear from people who are impacted by and use devices developed in the field of neural engineering and technology. Katherine emphasized the value of having these conversations, especially when engineers are designing products for a target population.
"The CSNE will bring in [technology end-users] and we'll ask them, 'what is your most important priority?'" Katherine said. "Nine times out of 10, it's totally not what we thought as scientists. The things we don't have to deal with but they [end-users] deal with on a daily basis are very different."
Participants in the REU have said that the teaching staff, including Dr. Johnson and Dr. Eric Chudler, executive director of the CSNE, have been very supportive throughout the program, both in and out of the classroom. The education team also invites students to diverse, community-building events such as the Women's Mentoring Lunch, a get-together for female undergraduates, graduate students and post-docs to network and share their perspectives as women in STEM. Through her interactions with the education staff, CSNE industry affiliates and lab coworkers, Alisha was immediately drawn to the neural engineering community.
"The thing with this program is that it's in a center where there's such a community built around this field, which is something that I haven't seen anywhere else," Alisha said. "I definitely wouldn't have been able to meet as many people and professors in the field, and hear about the other research that's happening without the REU. It's nice that they have a big conclusive goal too because it means that all of these labs can contribute in their own ways."
Helping students build a network:
Some students, like Nile, maintain connections with their mentors beyond participation in the program. When she came to the UW as a graduate student in the UW Bioengineering Department, she chose to return to Dr. Rajesh Rao's and Dr. Jeffrey Ojemann's lab where she had worked during the REU program. Now, she is paying forward her experience as a mentor to current students in the REU and the Young Scholars Program.
"It's not just a mentorship opportunity but also a teaching opportunity, which are important skills especially if you want to be a PI or professor," Wilson said. "It's nice to do that in a smaller scale setting where we have more personal interaction with the summer students versus a large class of 300 people."
The program is also helpful for students considering their post-graduate plans. UW senior Katie Ly spent the academic year working in Dr. Katherine Steele's Ability and Innovation Lab, and her current project focuses on ankle foot orthoses and how they affect people's walking pattern. As a UW Undergraduate Fellow, Katie receives funding from the CSNE to continue her research over the summer and has access to the weekly lectures and seminars with the REU students. Katie says that this internship experience can help her build relevant skills for future work in industry and academia, or both.
"It's valuable for people who are pursuing a research-oriented career," Katie said. "Getting this experience early on helps you prepare for that."
The REU participants represent a variety of backgrounds and experiences, which by itself, helps to inform the research process.
"Every field is better if you have higher diversity because you tend to benefit from a broader range of perspectives," Dr. Lise Johnson said. "The more backgrounds and the more ideas you can bring to any problem, the more likely you are to solve the problem."
The REU program ends with final presentations in which participants share their research findings with other students, faculty mentors and CSNE community members. According to current mentor and UW computer science and engineering student Patrick Lancaster, it's exciting to watch the students grow in their confidence and knowledge between week one and the final presentations.
In the past, these student presentations have occurred at the spring UW Undergraduate Research Symposium. This year, to accommodate the program's growing size, the CSNE is hosting an all-day event for presentations and poster sessions from the REU, YSP and Research Experience for Veterans (REV) programs. This day is a culminating experience for students as they leverage all of their knowledge gained in the program to create a final product that they're proud to share.
"Being able to spend time working in an environment focused on innovation and new ideas really encouraged me to learn as much as I could about my lab's work and gave me a sense of excitement regarding my project and its potential contributions," Alisha said. "The final presentations event gives me a chance to share the work that I have done and to use the skills that I picked up in the science communications sessions taught by Dr. Lise Johnson. It's a great opportunity to learn how to present academic research in both a slide and poster presentation format, and those are skills I will absolutely use in graduate school and afterwards."
REU participant final presentations will occur on August 17 at 9 a.m. in Russell Hall, and they are open to the public. For more information about the CSNE and the REU program, contact Dr. Lise Johnson.