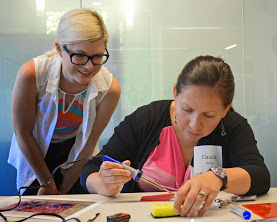 Working in STEM (science, technology, mathematic and engineering) as a woman can be challenging.
Several high-profile news stories in the last month offer a peek at the sometimes uphill battle: "Comments on 'girls' in science highlight persistent gap in field" from The Boston Globe and "Science postdoc told to grin and bear prof's wandering eye" from the Chicago Tribune.
On the flip side, some universities and programs are getting it right. The University of Washington's Department of Computer Science & Engineering recently was lauded for promoting women's participation in undergraduate studies.
In looking at best practices outlined in the story above, we see parallels with activities at the Center, not just at the UW but also at Massachusetts Institute of Technology and San Diego State University.
Best practices to support girls, women already in place
We get girls interested in neural engineering early on, through field trips and summer programs, including MIT STEM Mentoring. San Diego MESA Alliance hosts an "Engineering Your Future" event for pre-college students. In 2014, we hosted 38 visits for school groups in Seattle, reaching more than 6,700 students.
We provide hands-on, creative experiences through the Tech Sandbox course, CSNE Hackathon and Momentum at MIT and the Research Academy Jr.
We'll also launch this week a Women's Career-Mentoring lunch series. Scientific Advisory Board Member Vivian Mushawar, a professor in the Department of Biomedical Engineering at the University of Alberta, will kick off this series Thursday, June 25. 
Female researchers serve as a resource
Lise Jo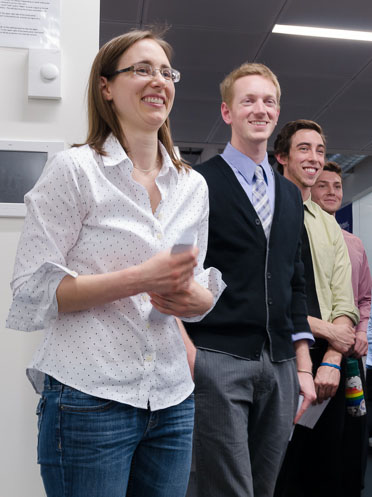 hnson, who oversees the CSNE's University Education programs, is spearheading this activity. As a female and researcher—Johnson is a postdoctoral research associate in the UW Department of Neurological Surgery—she has fielded questions on career advancement, maternity leave and child care from graduate and other students. "I just recently had a conversation with several students about career issues and family, and being a woman within engineering," she said.   
A lot of the issues or challenges for women in STEM that are highlighted in the news relate to being in an academic environment. Neural engineering may even have its own set of issues. "It is a very cutting-edge field," Johnson said. "If you take time off in a very cutting-edge field, you tend to end up much further behind than if you were in a more traditional field."
Challenges that women face include simply being underrepresented in engineering and STEM fields.  
"There are a lot of social aspects that are different about being a woman in a largely male field," she said. "If you want to have kids, it can be difficult if you're pursuing a tenure-track career. If you want to be involved in industry, the company might not really be set up for people to take time off, work part-time or have flexible working schedules. Re-entry in the field can be difficult if you take time off to do something else."
Being the only female, or one of many, in a research department
As an undergraduate, Johnson said that she was the only woman in the physics department at the University of Oklahoma. She felt encouraged to progress in STEM. "There was a very strong desire to retain me in the department and to make sure that I went on to do something scientific," she said. "In some ways, it was nice because I got a lot of additional support. But sometimes it was a little isolating. Someone might say, 'Oh, would you like to be in this brochure?' since I was the only female."
In graduate school at the University of Arizona, Johnson said that there were a large number of women in her class. "It was nice to have a lot of women going through the program at the same time," she said. "Graduate school can be a very demoralizing process, no matter your gender. I had good advisors, and people helping me out."
Johnson sees the impact of having strong female leaders in the Tech Sandbox Competition course that she designed. Similar to a hackathon, the students form teams and create a neural engineering demonstration.
"We have a strong vertical mentoring component to the class, where we have graduate students really helping undergraduate students," she said. "It's been great to see some of the female graduate students providing leadership and guidance, and being in a position of authority, to the female and male undergrads. That's been really neat."
The CSNE's Women's Career-Mentoring Lunch series is designed to connect students, post-docs and faculty with women who have built successful careers in neural engineering. These female leaders will talk about their career path and the benefits and challenges of working in engineering. Johnson said she hopes that this forum for informal mentoring will promote networking and encourage women to consider a variety of career options within the field of neural engineering.