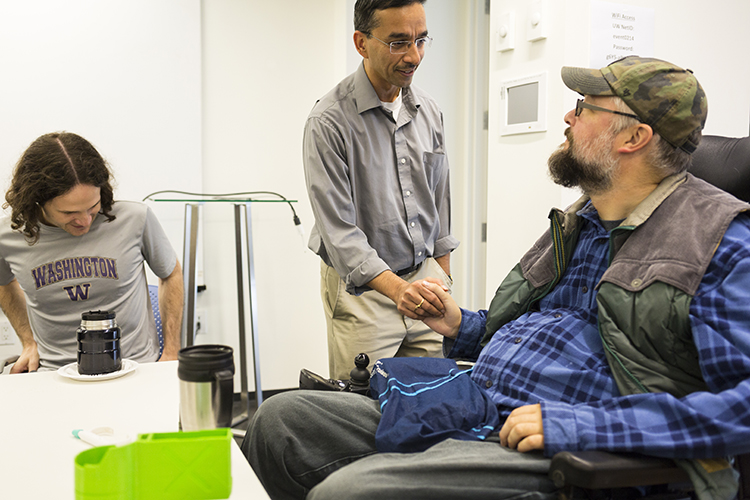 In an ideal world, all engineers, including neural engineers, would inquire about the needs of their technology end-users before beginning their design process. Information about end-user needs can be collected through methods like surveys, firsthand conversations in focus groups, and usability tests. In reality, these conversations and usability tests often do not happen, creating a gap between what the end-users of neurotechnologies want, and what the engineer perceives as the end-user's needs.
The practitioner and end-user roundtable at the Center for Sensorimotor Neural Engineering (CSNE) strives to bridge this gap by giving researchers, students and faculty an opportunity to interface directly with potential end-users of neurotechnology. The roundtable also features leading professionals in neuroscience and neural engineering in a conversational, low-stakes environment. Past presenters have worked in industry sectors ranging from healthcare to the military, and they often provide good insight to attendees about the accessibility of technology in their respective fields.
The most recent roundtable, held on Nov. 7 at the CSNE, featured Eric Rea, who suffered a snowboarding accident 17 years ago and has been a quadriplegic ever since. Post-accident, he developed an interest in video game design and went on to receive a Certificate in Game Design at the University of Washington (UW). He currently works as a user-experience designer for the Seattle computer game company, Big Fish.
"When it comes to technology and disability, I have a somewhat unique point of view in that I can understand both the designer and user perspective," Eric said.
At practitioner and end-user roundtables, the guest speaker starts by providing background about themselves and their current work. This section is followed by an open forum to discuss current issues related to end-user experiences in the speaker's field of expertise and potential barriers end-users face when using available technology.
These roundtables can provide insight to CSNE researchers about the needs of end-users and how to better inquire about the shortcomings of current technology or products. Rea noted that in his field of user-experience design, engineers focus on understanding the accommodations necessary for users with disabilities by soliciting direct feedback through interviews and surveys and by conducting usability tests.
"As designers and creators, it's easy to fall into the trap of designing what we think is best for the user, only to find out that what we thought was so great, was in fact not very useful," Eric said. "The processes of user-experience design allow us to continually correct our course early and often, which will save time and money in the long run."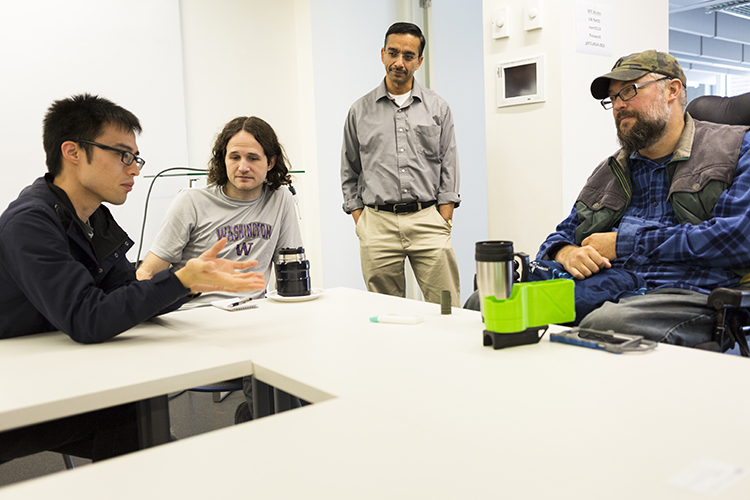 Similarly, engineers can help ensure that their neurotechnologies meet the needs of their target populations through direct conversations. Hearing this firsthand perspective from a prospective end-user of neurotechnology who also understands the design process itself, like Eric Rea, is doubly-valuable for CSNE researchers and engineers. CSNE members often work on many different types of engineering projects throughout their careers, each with a specific target population. Directly meeting with the target population can help engineers overcome personal and creative biases, and remind people that keeping the intended demographic in mind should occur during every point of the engineering process.
"I think this roundtable is a fantastic forum for creating awareness around user needs and reminding people that they are designing for others, not themselves," Eric said.
Katherine Pratt, a UW/CSNE graduate student and regular attendee of these roundtables, noted that engaging with the target population is integral to creating meaningful technology that will benefit end-users by directly addressing their needs.
"We [at the UW BioRobotics Lab] have a specific end-user group that has very specific wants and needs that are [often] very different than what they [engineers] think they want," Katherine said. "That kind of perspective is something we can only get by asking, 'what is it that you really want? What are the tools that you use on a daily basis? By asking these questions, we can understand some of the problems that we have no firsthand experience in."
In addition to discussing potential engineering challenges, this past roundtable's conversation addressed some personal challenges of living with a disability. A few attendees inquired about some of Eric's challenges with post-injury depression. Although the accident dramatically changed his life, Eric discussed ways that he returned to prior activities through nature drives and video-controlled cars, which allowed him to remotely interact with the physical world. Eric also said that his service dog, Titus, was one of the best things that came out of his difficult situation.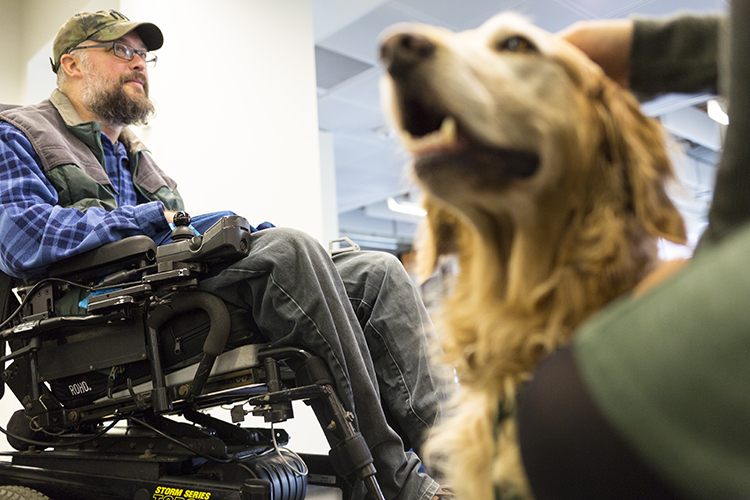 "Titus is my best friend, [and] he's been such a great companion. My job is also something I love, and I don't know that I would have gotten into that if I had been able-bodied," Eric said. "Those are two great things that changed my life for the better, and I have a pretty good life even though I have some hoops to jump through."
Maggie Thompson, a third-year PhD student in the UW Department of Electrical and Computer Engineering and president of the CSNE Student Leadership Council, said that the roundtable helped her understand the reality of a day-in-the-life of a person with disabilities. Previous to the roundtable, Maggie imagined that much more was needed at a job site for a person with Eric's disability. In reality, Eric only needed a door paddle and a desk that he could fit his wheelchair under. Hearing from someone with this lived experience, and who was willing to share, was helpful to Maggie in breaking down some of those misconceptions about the needs of people with disabilities. She said that these insights also apply to overcoming biases or misconceptions about the needs of a target population that will benefit from neurotechnologies.
Maggie appreciated the CSNE facilitated conversations about accessibility and understanding the needs of users with disabilities, and she was excited to bring her insights back to her own lab. Her current research at the UW focuses on the feasibilities of closed-loop deep brain stimulation (DBS) platforms, which are often used to treat neurological disorders like Parkinson's Disease or essential tremors. Current DBS devices apply a constant level of electrical stimulation, which can lead to rapid battery depletion and necessitate battery replacement surgeries.
Maggie's research focuses on making more user-specific devices that limit tremors based on the user's lifestyle and daily activities. Many prospective users of this DBS platform only need to limit their tremors during specific times, such as when working, but not when at home. User-specific DBS devices could provide stimulation during activities that induce tremors, and stay off otherwise, based on an algorithm.  
Maggie said that roundtables, like this past one with Eric, help ground her perception of people's needs, particularly related to her research. She left the event with specific questions she hoped to ask the prospective users of her technology.
"There are a lot of people working on devices and technologies for end users who we may not have the opportunity to interact with normally, but there aren't a lot of times when I come across someone in my day-to-day-life who may be an end user of my technology research," Maggie said. "By bringing people [into] the Center, it's an opportunity [to speak with prospective end-users of neurotechnology, which] most of us wouldn't have otherwise."
The next practitioner and end-user roundtable will take place at the CSNE during spring quarter 2017. For more information about practitioner and end-user roundtables at the CSNE, please contact Lise Johnson.