Wednesday, December 16, 2015
Twenty-three Eton School (Bellevue, WA) students visited the CSNE on Tuesday, December 15 for a two-hour crash course in neural engineering. The 6th, 7th, and 8th grade students participated in several activities, including a demonstration on how electromyography can be used to control devices, and an interactive session that used brain teasers designed to illustrate the strengths and limitations of our sensory perception.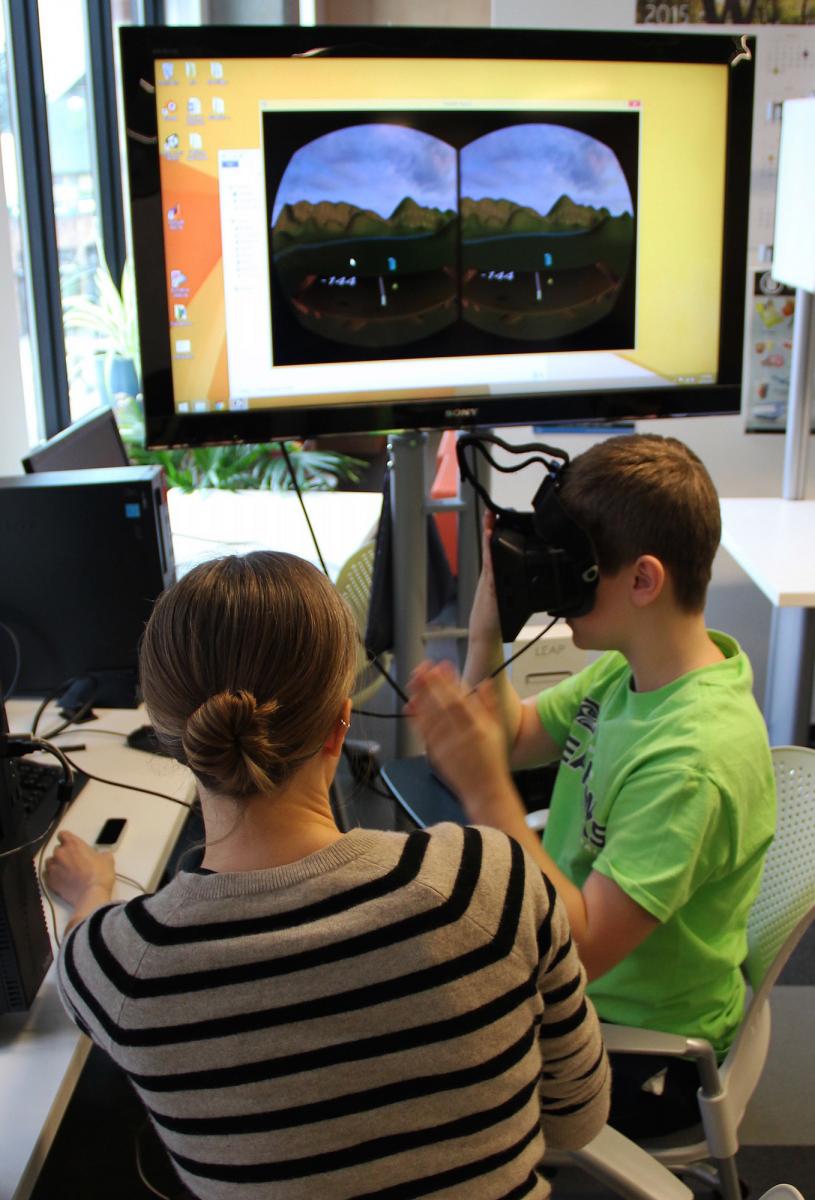 Students had the chance to test vHab, a technology developed by UW undergraduate and graduate students to help those with motor impairment regain control of their muscles and make physical therapy more enjoyable. vHab uses Oculus Rift goggles to create an immersive rehab experience.
Each activity elicited excitement and a stream of questions from the students, who recently completed a neuroscience segment in their science class.
"They've been ready for this for weeks," said Laura Moore, who teaches Eton School's middle school science class. Moore requested a visit for her students after attending CSNE Executive Director Eric Chudler's Sowing the Seeds of Neuroscience workshop in 2013. The program is designed for middle school science teachers to develop their research and teaching skills.
The students drew connections between their class and the lab, comparing their SpikerBox stimulation of cockroach limbs and the electrical signals that can control prosthetics and restore senses in humans."Students have a chance to see and discuss how a neuroprosthetic device can be built," Chudler said.
The visit was coordinated by Kristen Bergsman, CSNE's Pre-college Education Manager. Bergsman leads field trips to the lab for students in 4th through 12th grade. In 2015, almost 500 students visited the center through this program. The students received an opening presentation from Chudler intended to give students an overview of the field of sensorimotor neural engineering, while subsequent activities allow them to interact with the science in a tangible way.
Many students said working with the VHab technology was their favorite part of their field trip. For the gamers in the group, it was an exciting chance to try out a technology they otherwise wouldn't be able to use. For others, it was a way to test their muscular abilities, as they found some of the rehabilitation exercises weren't so easy.
But the vHab tec
hnology is more than fun. It gives students insight into their own abilities. The version of vHab students used was the first iteration of the technology developed in a 10-week Tech Sandbox course by enterprising UW students two years ago.
"If you have an idea, it doesn't matter how old you are or where you're at," Bergsman told the students from Eton. "You can get support to make those dreams come true."
Bergsman is working on a research study about participants in school visits to CSNE. The study aims to understand the impact of school visits on teachers, chaperones, and students.
"There isn't a lot in the research literature about the impacts of field trip programs for informal science and engineering education," Bergsman said. "But teachers inherently know that there is something about a field trip that is different than what students can learn and experience in the classroom. They see the impact it has on their students. We are curious if the field trip experience impacts student attitudes about science and engineering as well as teacher and chaperone perceptions."
Though the Eton School students were not included in Bergsman's data sample, the middle schoolers did have the chance to provide feedback on their experience through anonymous surveys. When asked what they found most exciting about their visit, one student responded: "That you can connect the brain to tech using electricity." Another said, "That you can make your muscles control robotic arms."
In addition to school visits, the CSNE provides two summer research experiences: a Young Scholars Program for high school students and a Research Experience for Teachers.