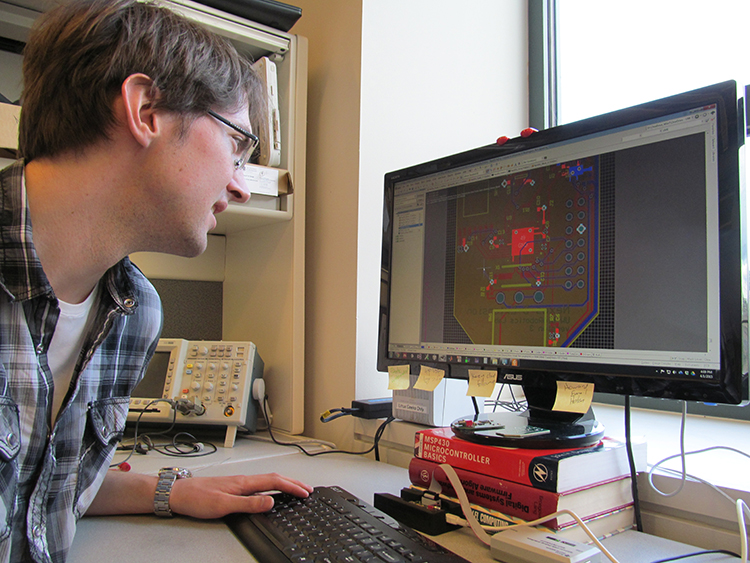 Jeffrey Herron began his affiliation with the center as a student in the lab of CNT member, Howard Chizeck. After graduation, he went to work at the center's industry affiliate, Medtronic, developing research devices. Now, he has come full-circle, returning to the University of Washington in January 2019. Learn more about Herron's academic and career path in this article, and how his experiences as a student and working in the private sector have informed his current role as a CNT faculty member and assistant professor of neurological surgery in UW Medicine.
Center for Neurotechnology (CNT) member, Jeffrey Herron, has worked in a range of roles that focused primarily on creating research tools that support neurotechnology development. During his PhD studies at the University of Washington (UW), he researched neuromodulation at the CNT-affiliated UW BioRobotics Lab. This informed his work as a senior biomedical engineer at Medtronic developing research devices in the Restorative Therapies Group. Now, he has returned to the UW as an acting assistant professor who develops medical devices and systems to treat neurological disorders.
"His background in industry and excitement around closed-loop systems are a huge asset," said Dr. Jeffrey Ojemann, a professor in the UW Department of Neurological Surgery and adviser to Herron during his PhD studies. "He has a great combination of practical, theoretical, clinical and scientific expertise, [and] he will allow us to push forward on a wide variety of treatment possibilities."
Herron's interest in neural interfaces started at the end of his undergraduate education in 2009 when he attended a conference on engineering and medicine. While there, he discovered the growing field of brain-computer interface (BCI) development.
"I'm confused by my own brain," Herron said. "I wanted to know more about what I am as a conscious being. I thought I could learn more as an engineer by building systems that interface with [the brain]."
Developing improved deep brain stimulators for patients with essential tremor and Parkinson's disease
In the UW BioRobotics Lab, Herron developed technology at the intersection of robotics and biological sciences. In his most recent project, Herron used neuromodulation through deep brain stimulation (DBS), to treat essential tremor and Parkinson's disease, which are tremor disorders that cause uncontrollable shaking. DBS works by stimulating deep structures of the brain through an implanted device, which has a therapeutic effect for users. Herron's research focused on using neural feedback to achieve selective stimulation of the brain. Herron also wanted this DBS to be a closed-loop system, meaning that it would turn on and off based on brain signals. This selective, closed-loop stimulation provides customized treatments for users through real-time adjustments in neuromodulation, all while reducing side effects and battery drain. 
Developing next-generation research tools at Medtronic
Herron's current role is informed by his PhD in Electrical & Computer Engineering at the UW and his work at the CNT. After finishing his PhD in 2016, Herron began working as a senior biomedical engineer at Medtronic, where he was tasked with developing the next generation of research tools for treatment that would work in patient's homes, not just the clinic and lab. While there, he worked on the Application Programming Interface for the Summit System, a platform developed by Medtronic to enable cutting-edge neuromodulation research. When developing these tools, Herron applied his knowledge as an end user of research tools in academia.
"Everything at a medical device company is highly regulated because you have to prove that what you do is not only safe for the patient, but also what the patient needs," Herron said. "It's about verification and validation."
After conversations with CNT members, Dr. Ojemann and Dr. Andrew Ko in the UW Department of Neurological Surgery, Herron decided to return to academia at the UW in January 2019 and began working as a CNT-affiliated faculty member.
"I wanted to be back on the frontlines doing research, not just supporting tool development," Herron said. "I hope to still work with my past peers at Medtronic, but now as a consumer of those tools."
On a day-to-day basis, you can find Herron writing grants and developing research proposals that address unmet patient needs or neurological diseases that lack treatment. For example, Herron is currently working with UW neurosurgery Dr. Andrew Ko to collect intraoperative neural recordings in DBS patients to learn more about the causes of neurological diseases and how to treat them..
Collaboration is key
Herron described his role as that of a front-line engineer who works with neurosurgeons to translate technology developed by the CNT. This role is highly collaborative and interdisciplinary because he must work with clinicians to evaluate potential risks and communicate them to researchers and study participants.
"I try to act as [the] glue between other engineers, scientists and clinicians, and coalesce research ideas into an application," Herron said.
While writing grant proposals, Herron has been looking for funding opportunities for new research, such as customized therapies that provide stimulation to specific brain structures or at specific frequencies.
"Customized therapies add additional sensors to do patient-specific or [brain] state-specific stimulation and therapy, so the therapies are smaller and more selective, so you have fewer side effects," Herron said. "You can also see if other diseases will benefit from these technologies."
Herron uses the findings and lessons learned from pre-clinical research to justify future studies when applying for approval from the Institutional Review Board and the Food and Drug Administration.
"Foundational neuroscience and techniques are often developed in animal models," Herron said, emphasizing the importance of the relationship between pre-clinical and clinical research at the CNT. "We have to do a lot of preliminary work to determine potential risks before anything can be translated to studies with patients."
In both academia and industry, Herron believes that interdisciplinary efforts are key to developing new research tools. The CNT has helped facilitate conversations among researchers in UW departments ranging from mechanical engineering to philosophy.
"I want to make sure there are ways to support student interaction," Herron said. "As a student in the CNT myself, I spent just as much time, if not more time, learning from my peers than from my mentors or professors."