Thursday, September 7, 2017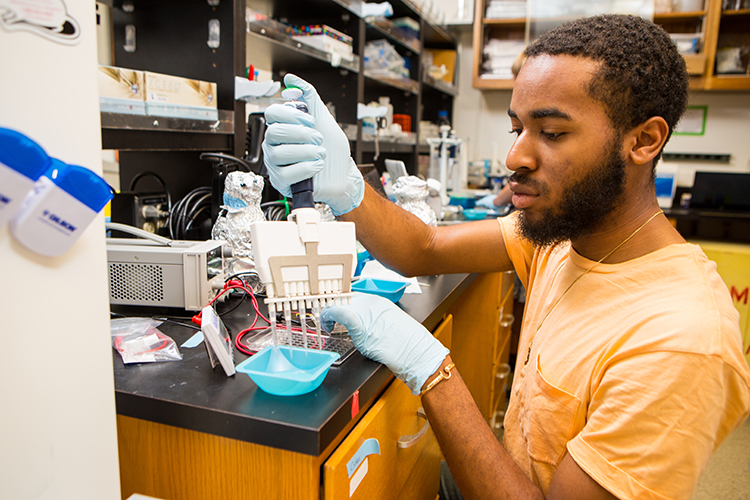 When Jesse Woodbury was a sophomore at Morehouse College he was already interested in becoming a neurologist. Because most of the coursework in his biology major was textbook-oriented, he looked for ways to get some hands-on experience in neuroscience. One of his professors told him about the Center for Sensorimotor Neural Engineering's (CSNE's) Research Experience for Undergraduates (REU) program. After some investigation, Woodbury became very intrigued by what it had to offer. This 10-week summer program on the University of Washington (UW) Seattle Campus gives students an intensive neuroscience and neural engineering lab research experience, supplemented by workshops in ethics, communications and scientific presentation skills.
"I felt like this would be a great way to see, 'Is this field for me? Is this what I want to do?'" Woodbury said.
Acquiring knowledge and skills through research experience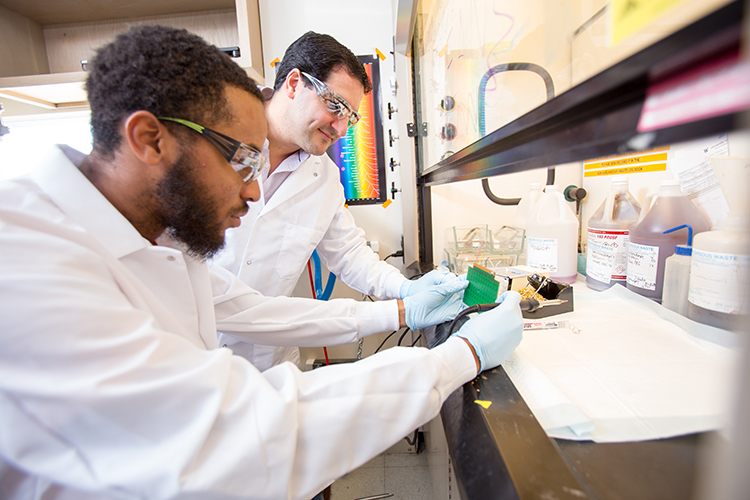 After being accepted into the REU summer program out of hundreds of applicants from across the country, Woodbury and 14 other undergraduate students were each assigned to a CSNE-affiliated lab where they would spend the bulk of their time. In the REU program, each participant works on their own research project, which is designed by the student, their graduate student mentor and the lab's principal investigator (PI). The student's research project is constructed to both integrate with and contribute to the often-groundbreaking research already underway at the CSNE.
Woodbury was assigned to a research lab supervised by CSNE member and UW professor, Dr. Rajiv Saigal. Woodbury contributed to pre-clinical translational research, focused on the use of biomaterials and drug delivery systems for the treatment of spinal cord injury and traumatic brain injury. His research project involved testing an electrically-conductive polymer in the interest of using it to release an anti-inflammatory drug, which aids in healing patients after traumatic injury.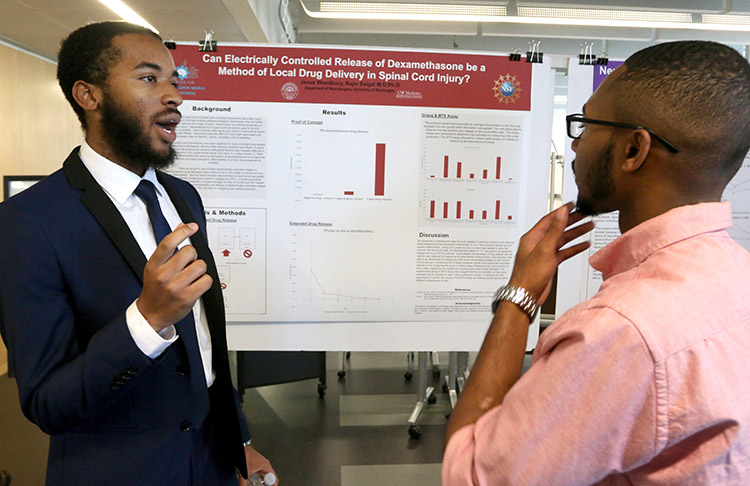 "With this research, I'll be able to reduce inflammation, which will help lower the effects of the injury," Woodbury said. "When the patient is in rehab, they will hopefully have an easier time getting back to their former abilities."
Working on their own research project in a laboratory setting gave Woodbury and the other REU participants a strong framework to further their knowledge, awareness and understanding of neuroscience and neural engineering. It also gave them valuable experience that helped to prepare them for graduate-level study.
"I'm gaining great hands-on skills with pipetting and cell-culture work, and also computational experience with analyzing data using Excel," Woodbury said. "These are great things, because I would like to go into a MD-PhD program, and these are skills that you need to have, skills that will help make that transition into my PhD a lot smoother."
Learning from diverse role models and creating personal connections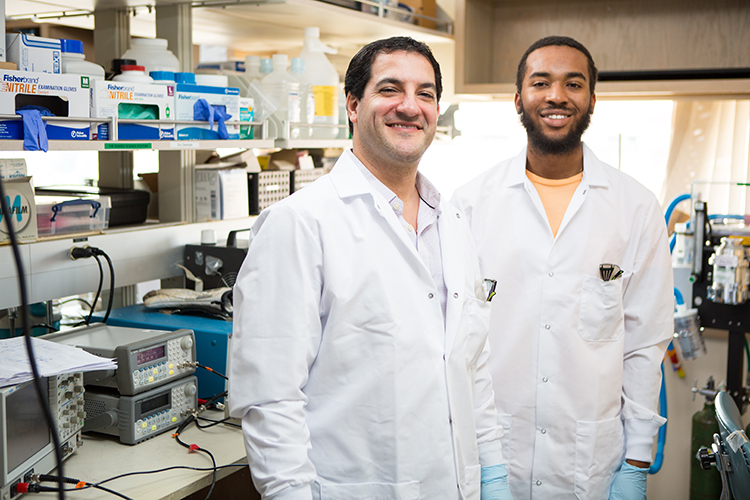 The lab gives REU participants an opportunity to connect with graduate-level researchers working alongside them as well as a chance to observe their PI at work and ask questions.
"Getting to work with my PI, who is a MD-PhD, speaking with him and getting his take on the process, and seeing how he operates definitely helped me realize that I could see that for myself," Woodbury said. "This [becoming a MD-PhD] is something that I want to do, and it definitely is something that's attainable. Doing a MD-PhD program is not easy. It's a lot of work, but seeing what he [Dr. Saigal] does has helped me realize that maybe I can do this. I doubt myself a little less now that I've been exposed to and got to experience all this."
The relationship also can go both ways, with the PIs benefitting too.
"It's been a really good experience. I would say it's definitely mutually beneficial," Dr. Saigal said about mentoring Woodbury in the REU program. "From the PI perspective, it's great to have an eager, young student who wants to learn new techniques and contribute to the lab, who can carry out experiments and advance our cause, gather new data and keep moving our research forward. On the flip side, it's rewarding to mentor an undergrad student at this early stage, who is considering a career in research and/or medicine and to help foster advancement in his career."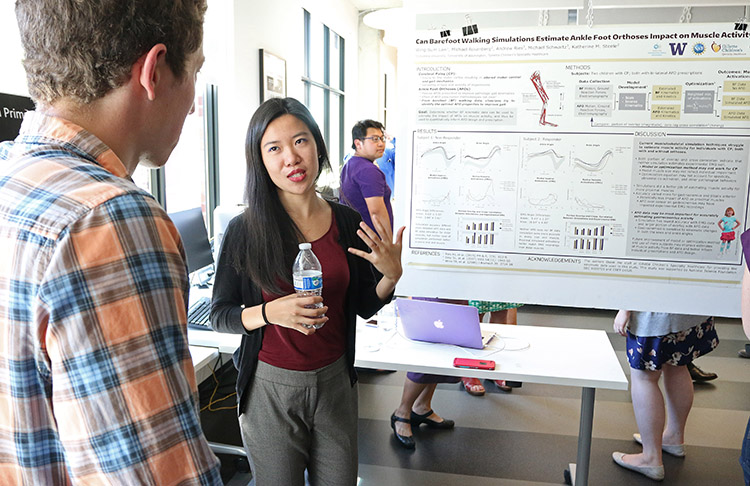 Wing-Sum Law, another REU participant and rising senior studying mechanical engineering at Columbia University, benefitted as well from the relationship with her PI, CSNE member and UW Professor, Kat Steele.
"Especially as a female, [I noticed that] there aren't a lot of female mechanical engineers out there. I think that less than a quarter of my class is female, and the year before me less than an eighth of the class in mechanical engineering was female, which is kind of wild. It's an extra layer of, 'Oh, am I alone?' That's one of the things I noticed coming to this REU, was how much more diverse it is than any other engineering situation I've been in. Not just in terms of gender, but also in terms of race and [economic] class," Law said. "Kat is a really strong mentor. She is super-involved in her lab, and I see her all the time, which sometimes you don't get with other professors. It's really nice."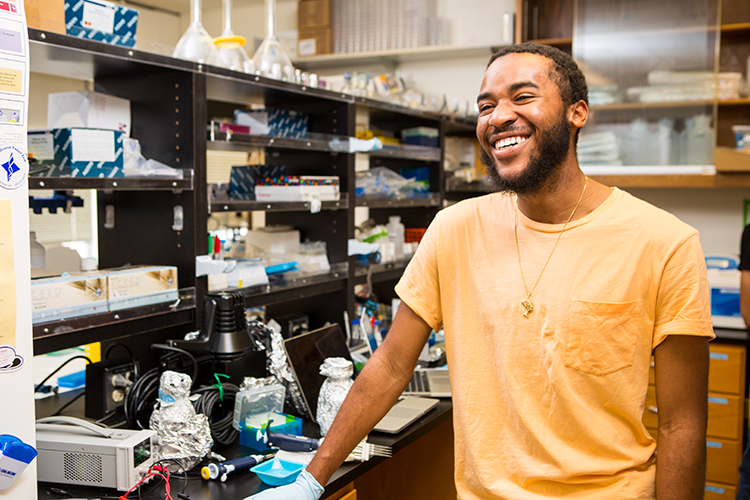 Woodbury talked about how many of the connections he made during his time in the REU program came not only from the lab, but also from attending REU workshop trainings and getting together with lab mates and other REU participants after-hours.
"The program gives us a lot of freedom, and although we are in lab for eight hours a day we are usually off by 5:00 p.m., so we have some free time and weekends," Woodbury said. "I've got to meet some pretty cool people and experience Seattle. I've gone to Bainbridge Island and downtown Seattle and been able to hang out and meet new people that are also interested in the field that I'm interested in. Great connections, but also great life friendships that I hope to keep after the program is over."
Gaining confidence to independently pursue educational and career goals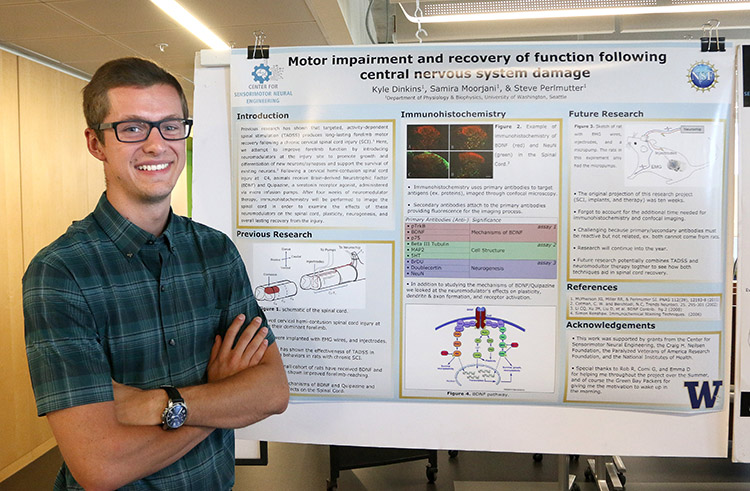 The combination of lab research experience, being around positive role models, and forging lasting connections with mentors and other participants in the REU program fosters a self-assurance that helps propel students toward their future goals.
Kyle Dinkins, a rising junior studying biochemistry at the UW who joined the REU participants, noted that going through the experience helped him become sure of goals he had already set for himself. Dinkins aspires to get into the Neurobiology program at the UW, go on to graduate school and eventually do research on Alzheimer's dementia.
"I think it's solidified them, solidified my research plans, making me more certain that's where I want to head," Dinkins said. "I wasn't uncertain, but I was maybe 80 percent before. Now, I'm very, very certain that's where I'm heading."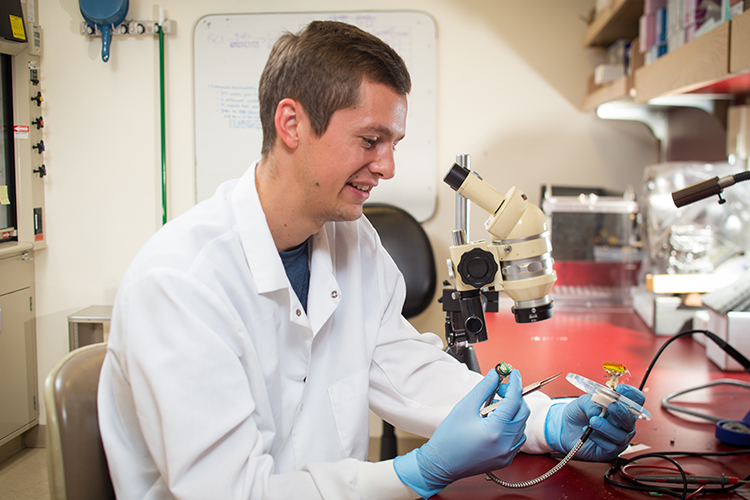 Dinkins is working in the lab of CSNE member and UW Professor, Steve Perlmutter, studying the effects of BDNF (brain-derived neurotrophic factor) on spinal cord neurons after an injury. BDNF is a protein which encourages the growth of new neurons and synapses. Much like other REU participants, Dinkins expressed admiration for his PI, as well as appreciation for the benefits of working independently on his own research project.
"I've never been able to shape my own research project before. It's always been someone else's," Dinkins said. "Just doing that and getting a glimpse of what it will be like in grad school and trying to do research in the future… It's very unique, and I think priceless, seeing what it's like to do your own research and not work for someone else. That's what I've cherished most about this opportunity."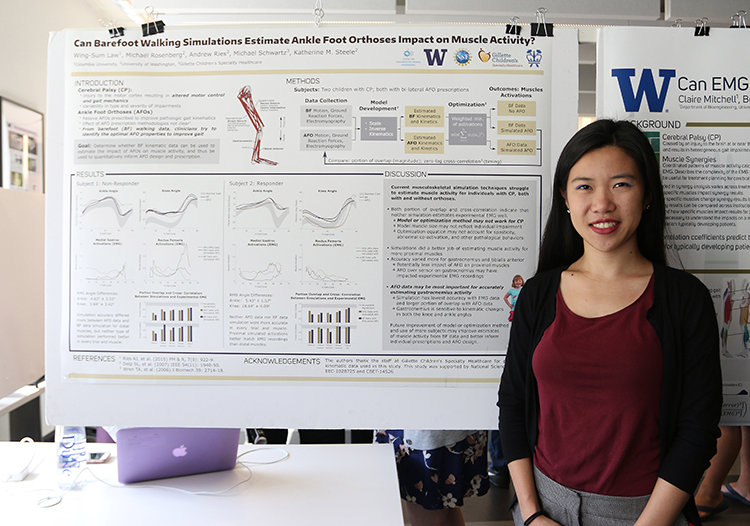 In a similar way, Law valued the freedom she was given to conduct her research in the Steele Lab, simulating the impact of an ankle-foot orthosis on the gait of children with cerebral palsy.
"I've gotten so many opportunities this summer to basically, when I hit a problem, to try and think of ways to solve it on my own, and also think of new questions that can be asked out of the conclusions that I draw from each individual step along the way," Law said. "I think that's a really important mindset to have, especially for somebody like me who wants to go into research. I have done research before, but it has been less independent."
The independence students are given in the lab, along with the connections they make and knowledge they gain can combine to change their educational and career goals in impactful and positive ways.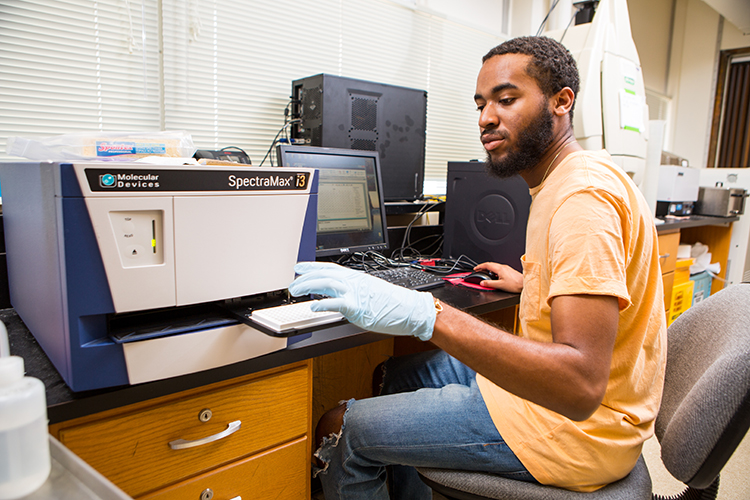 "It's definitely changed my outlook. I thought the field of neuroscience was narrow and you could only do so much with it," Woodbury said. "I also thought it was [limited to] brain work and diseases of the brain, but I didn't realize there's so much going on with the spinal cord. This has definitely opened me up to [studying and working on] spinal cord injury. That's definitely a possibility now."
According to CSNE University Education Manager, Lise Johnson, her professional evaluations of the REU program have confirmed that it can be a career-changing and sometimes even life-changing event for students.
"It can be really transformative. People have reported, 'I didn't know what neural engineering was before, and now that I've done this, I feel like this is something that I really want to do,'" Johnson said. "People have changed their majors or changed their plans for either going to graduate school or going to medical school based on the experience that they have had here. It's a small number of people overall, but I think in terms of the way that we're able to impact people's lives, it's a big outcome."
For more information about the REU program, visit the program webpage or contact Eric Chudler, CSNE Education Director.