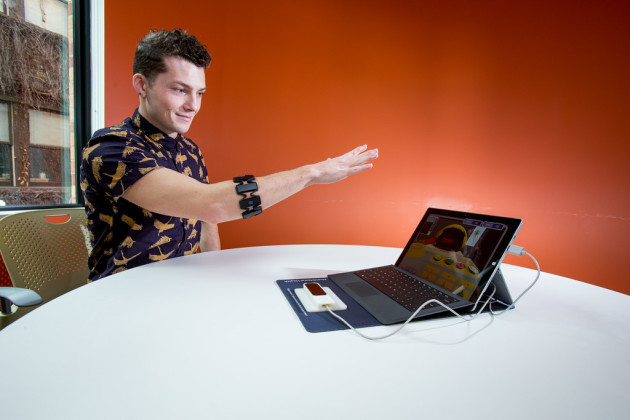 Lars Crawford demonstrates vHAB, a virtual reality device designed to assist stroke patients with physical therapy. Crawford was part of a student team that invented the device in the 2014 Tech Sandbox competition and further developed it at the CNT over the next few years. The Tech Sandbox was a precursor to today's Neural Engineering Tech Studio course at the UW. In 2020, Crawford returned to the Center to be a teaching assistant for this course. Photo: Buerk Center for Entrepreneurship
Lars Crawford, a graduate student studying bioengineering at the University of Washington has had a long history with the Center for Neurotechnology (CNT) as well as experience developing a startup company. In 2014, Crawford was a student in the Center's Tech Sandbox course, where he was part of a team that designed and engineered a virtual reality device to assist stroke patients with physical therapy. Over the next few years, with support and guidance from the CNT, he and his classmates evolved their idea into the innovative startup MultiModal Health.
Recently, Crawford returned to the CNT during the 2020 spring quarter to assist with the Neural Engineering Tech Studio, a cross-disciplinary course in the UW Department of Electrical & Computer Engineering and UW Bioengineering that teaches students how to work together in teams to build neurotechnology addressing health conditions such as spinal cord injury and stroke. This course grew out of the CNT's Tech Sandbox, and it is still facilitated by the Center. The course is taught by CNT members Chet Moritz, Azadeh Yazdan and Scott Ransom.
Below is a lightly edited version of my conversation with Crawford, where we discussed some of his past experience at the CNT, the challenges of taking this course online because of the novel coronavirus and what returning to the Center as a teaching assistant (TA) was like for him.
Welcome back to the CNT, Lars! Last time we talked, I think you were working on your Ph.D. in UW Bioengineering. Is that still the case?
Thanks, Wayne! It feels great to be formally associated with the Center again. I love this place! And yes, that's correct — I've just wrapped-up my fourth year in the UW Bioengineering Ph.D. program, and I actually just successfully completed my general exam, so I've officially been deemed a Candidate in Philosophy, which is very exciting! I have about a year left in the program, based on the experimental milestones I set out in my exam, and I'm looking forward to getting back in the lab — albeit slowly and carefully as the University moves through the various phases of the novel coronavirus reopening plan.
What drew you back to the CNT to be a TA for the Neural Engineering Tech Studio?
The primary impetus was my communications with Azadeh Yazdan. She serves as a member on my Supervisory Committee, so I have had the opportunity to work closely with her on my Ph.D. thesis. She was looking for a TA for the course, and in our conversations it came up that I had previously participated in the Neural Engineering Tech Studio, back when it was known as the Tech Sandbox. So, I had experience with the subject matter and flow of the course. I'll admit I was initially a bit hesitant to join, as I wanted to make space for others who had not had the opportunity to interact with the course, but being more on the side of the instructing team was a very different and rewarding experience, so I'm very grateful she kept on it and that I joined in!
What was your role as TA for this course? What were you responsible for?
I served as the touch point between the instructing team and the students. This involved providing details and answering questions for assignments and the like for the students while also assessing them on these assignments and discussing points of confusion with the instructing team to support the students' ability to succeed. I also met with students to help provide some technical support based on my background in the med-tech startup space. In doing so, I felt like I had the opportunity to play a special role where I could contribute to the design and structure of the course with the instructors and also work directly with the students to ensure they felt heard and could perform to their maximum.
How were you able to apply your past experience as a Tech Sandbox participant and work in MultiModal Health to assist students in this course?
Prior to being the TA for this course, it had been four years since I had spent much time thinking deeply about my time with the course and MultiModal Health, which sprang out of it. So, I was surprised with how quickly and thoroughly memories and experiences came flooding back. I felt this expressed in a variety of ways throughout the quarter. From an anecdotal perspective, Dr. Ransom is a super-engaging lecturer who tells awesome stories about his past in the med-tech space, and he frequently engaged me to tell some of my own stories that were relevant to the content we were covering. From a technical perspective, several teams incorporated ideas that were analogous to how MultiModal Health products operated, so I could provide recommendations for components, integration strategies and development environments that were directly applicable to their projects. From a product development perspective, many of the hurdles we at MultiModal Health had to jump over were similar for this year's teams, so I was able to offer advice for resources that were available, concepts to focus on or avoid, and potential ways to pivot in light of new information. At the same time, doing so in a remote environment was new for everyone, so it was an interesting challenge to engage with the teams to solve some of the new issues this introduced, such as an inability to connect crucial pieces of hardware that were developed by team members in disparate locations. So, I felt as though I was able to both contribute meaningfully to the students' learning and to learn with them along the way!
What were some of the other challenges involved in moving this very hands-on class completely online because of the novel coronavirus?
Well, for starters, I'm a very hands-on learner myself, so I benefited directly from the structure of this class when I was a student. There's a level of camaraderie and rhythm that occurs when you and your team members are all working at the same table with your sleeves rolled up that is difficult to emulate purely through a screen. From the TA perspective, this was also hard because it meant that I couldn't sit down with the students and roll up my own sleeves to get into the work with them to help or demonstrate. That said, the students still did a great job collaborating with each other. I only ever heard good reports of team communication and cohesiveness, and I still felt as though I could contribute directly to their development.
On the flip side, what have been the unexpected benefits of teaching this class remotely?
You know, even though it wasn't ideal, it provided a sort of existence proof that even the most hands-on course and content could be translated into a purely online/remote learning environment. This remote environment also forced students to effectively practice communication and teamwork because they didn't have the benefit of just being able to run into each other and discuss off-hand how things were going. The students thus gained a skill in remote engineering project development that this course wasn't traditionally designed to teach, so that is really awesome. Furthermore, I think this actually bodes well for the future of education and collaboration more generally as we continue to work out the kinks with this process and make it even more immersive. Perhaps one day, as technology becomes cheaper and more widely accessible, a course like this could be offered to a global audience to engage an even wider range of thinking processes and problem-solving skills to develop technical solutions to global issues. But on a more personal level, I also had the opportunity to develop my own team management and assessment skills in a remote environment, which I can see translating directly to my own future career as a research scientist in industry managing research and development teams.
Are you planning to be a TA for the course again next year?
Based on my last conversation with the instructing team, I think my name is currently down to do so! Next year's course will be right around the time I'm wrapping-up my final experiments and writing my dissertation, so I'll have to reassess my ability to do so when the time comes. But, I was able to juggle preparing for my general exam and being a TA for the course this time around, so I'd say the chances are high that it happens again. I'm certainly interested in the idea!
Is there anything else you'd like people to know about your experience being a TA for this course?
I'd just like to take a moment to extend a sincere "thank you" to Scott, Azadeh, Chet and everyone at the CNT past and present. Over the past 10 years of my time at the University of Washington, the CNT has served as a primary source of learning, support, friendships and personal growth for me. Being a TA for this course has not only allowed me to keep growing and developing friendships, but as I mentioned earlier, it has provided a really powerful mode of reflection on my time at the University and a way to witness my own progression from an aspiring scientist to successful researcher and mentor. I'm very grateful for the opportunities that the CNT and its members have provided me, and I truly look forward to maintaining a relationship with the Center as I transition into my career as a neural engineer.