Wednesday, October 28, 2015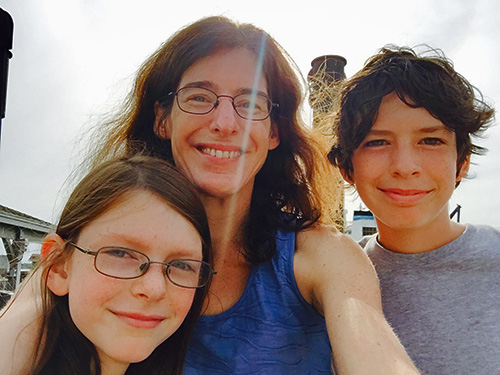 In early October, the Center for Sensorimotor Neural Engineering (CSNE) hosted its third event in the new Women's Career Mentoring Series featuring Dr. Adrienne Fairhall. Dr. Fairhall is co-leader of the CSNE's Computational Neuroscience Research Thrust and Associate Professor in the Department of Physiology and Biophysics at the University of Washington. This lunch-time event brought together female students, faculty, and staff at the University of Washington. Since this month's event directly followed the CSNE's Annual Retreat, we were fortunate to also welcome some women from CSNE partner institution San Diego State University (SDSU).
Dr. Fairhall spoke about her career path and engaged the participants in sharing their experiences as women in engineering and science. We started off our round-table discussion by introducing ourselves and our research. With a number of graduate students, faculty, and staff, including SDSU faculty member, Dr. Mahasweta Sarkar, and CSNE Diversity Director and Disabilities, Opportunities, Internetworking and Technology Director, Dr. Sheryl Burgstahler, we were able to share many different perspectives. Dr. Fairhall described some notable moments along her career path including: an all-girls high school in Australia; Australian National University where she questioned her ability to take the harder series of math courses (if you can relate to that feeling of questioning your abilities, read about our recent event on Imposter Syndrome); a challenging, largely male, graduate program at the Weizmann Institute in Israel; and post-doctorate positions in the United States. Dr. Fairhall then talked about interviewing for faculty positions−traveling with her husband and infant son−and finding a fit at the University of Washington where she felt welcomed as a scientist and mother.
We shared advice on some challenging situations that some of us have experienced and were able to learn from one another. I was particularly struck by Dr. Fairhall's discussion of a feeling she had after her first child was born. She described rocking him one night and thinking: I could just do this−be a mom and not go back to science. Her husband, also a scientist, encouraged her to continue her scientific career. Dr. Fairhall is now a successful neuroscientist and mother of two. This isn't a question that all women will face, but it's wonderful when we can share and potentially help one another.
If you are interested in hearing stories from other women in science and engineering about balancing career with family life, take a look at Dr. Fairhall's lab website which includes a compilation of short stories from other female scientists. This lunch was part of the CSNE Women's Career Mentoring Series that aims to hold monthly mentoring meetings to discuss issues that face women in science and engineering careers. Keep an eye out for our next meeting, and/or join the csnenewsandevents@u.washington.edu listserv to get involved in the CSNE!