Thursday, December 17, 2015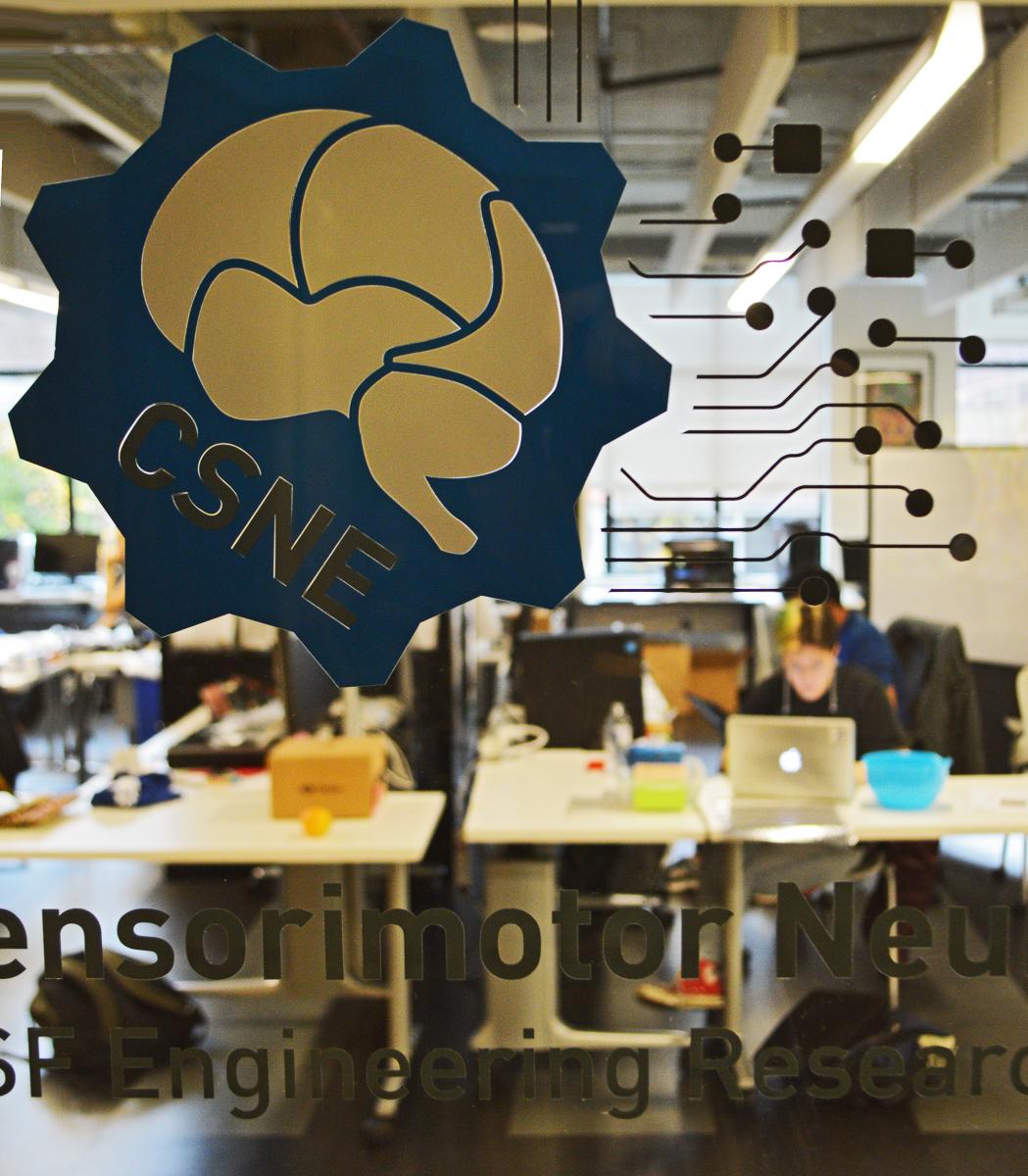 Happily sacrificing their weekend to science, fifteen students from four universities gathered in the CSNE in Seattle for the second annual Hackathon.
For 36 hours, students from the UW, Spelman College, MIT, and San Diego State University worked in teams to design a solution to a neural engineering problem or create a tool for educational outreach.
Instead of suffering from exhaustion, many team members found themselves energized by the tight work schedule, which began 9 a.m. Saturday, Nov. 7 and ended at 9 p.m. the next night.
From its inception, the Hackathon has sought to promote maximum creativity through a combination of constraints, resources, and fun. This year was no different, according to event coordinator Nile Wilson, a second-year Ph.D. student in the UW's Department of Bioengineering.
"A lot of people work well with deadlines, because it forces you to work efficiently," Wilson said. "And from our participant's feedback, we found that they thought 36 hours was the perfect amount of time. Twenty-four hours would be too short, but longer than a weekend wouldn't be feasible for students."
Participants were provided with basic hacking tools and had access to more powerful technologies like an Oculus virtual reality development kit, EEG and EMG recording devices, and a Microsoft Kinect, which were available, in part, from donations by Oculus VR and the Washington Research Foundation. Students were assigned to teams that encouraged diversity of thought and experience with member expertise running the gambit from ethics to computer science.
The winning team, Face the Music, included UW philosophy graduate student Timothy Brown, Jaycee Holmes from Spelman College and Catherine Yunis from MIT sought to make rehabilitation systems for people with facial paralysis more engaging by allowing users to draw, play music, or create art with their faces, instead of just performing routine exercises.
Teams were judged on their products' alignment with the center's mission and values, as well as project innovation, technological merit and presentation.
Judges also kept in mind varying experience and perspectives, as well as the effect that time constraints had on the students' products.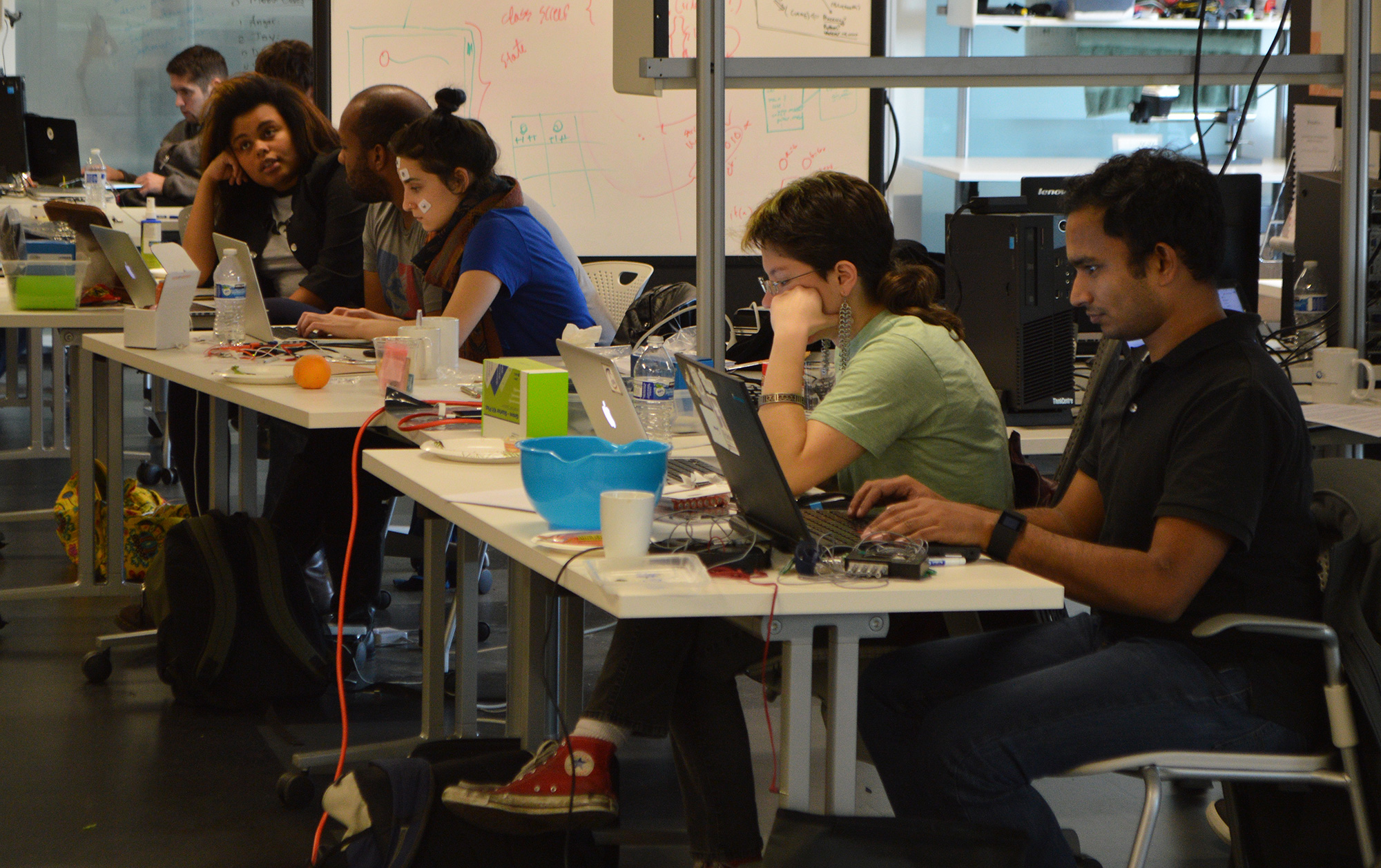 Face the Music was selected in part because of its conscientious consideration of the patient population. According to judges, the team successfully balanced recovery with engagement.
Although they may not have walked away with the 3-D printed brain-shaped trophies, the four other Hackathon groups developed novel projects.
Team EmoVibe also employed haptic feedback, but for an entirely different purpose. The group developed a prototype for a wearable device that could send real-time feedback to users with difficulty interpreting facial expressions that would allow them to recognize other's emotions.
Like Face the Music, the Rocket Brain team sought to aid people with their physical rehabilitation. The team devised an EMG-controlled video game to improve coordination and increase strength in individuals who suffered damage to their hand muscles.
Team Sunshine Arm focused primarily on educational outreach. The group developed a prototype for an EMG-controlled robotic arm that could demonstrate EMG technology and the fundamentals of neural engineering to a wide audience.
"On the first night, after the tools were just revealed, before they even started developing their projects, it was clear things were going to go well," Wilson said. "I was so happy to see good ideas from the get-go."