Friday, November 18, 2016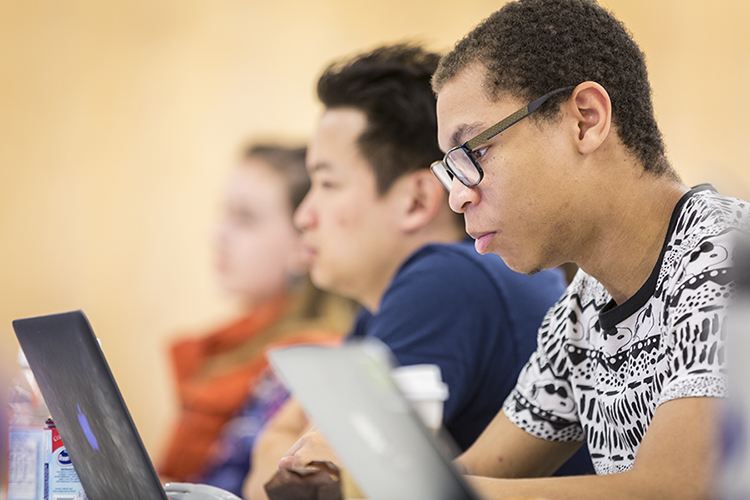 Originally launched in Nov. 2015, the Amazon Catalyst Program at the University of Washington (UW) is an initiative that provides financial support, mentorship, and resources for applicant's innovative projects that address today's most challenging problems. The project lead must be a current UW student, faculty or staff member, but individuals from any institution can apply as a team member.
Applicants are encouraged to submit an applied solution that clearly identifies a target population, which will demonstrate the impact of the project they have in mind.
"We're definitely looking for solutions to problems that exist in the world. The application review committee will always ask, 'who is losing sleep over this?'" said Lizzie Tao, the marketing manager for Amazon Catalyst. "That's the main criteria we initially look for in a great project or application."
Amazon Catalyst is currently collaborating with UW CoMotion, which is an innovation hub for the UW community. UW CoMotion focuses on accelerating the impact of people's innovations through technology entrepreneurship and technology transfer, which is the process of developing practical applications for scientific research by creating products for industry or commercial distribution. However, applicants can apply to Amazon Catalyst with ideas at any stage of development.
CoMotion, Amazon and the Center for Sensorimotor Neural Engineering (CSNE) are working together within a broader innovation ecosystem, which is comprised of financial support sources, processes and stakeholders necessary to take something from the realm of basic research to a final product that can be widely distributed.
"One of the great things about Seattle is its emphasis on commercialization of technology – with several start-up incubators in the area plus renown institutions like the UW, this is really the place to be when it comes to being entrepreneurial in the neural engineering space," said Dr. Scott Ransom, director of industry and innovation at the CSNE. "With Amazon's home being here, it really was a perfect match."
Funding ideas that are relatively new or under development can be risky for companies, but that's typical in industry: nine out of 10 start-ups fail. Part of getting an idea to a final product or company requires movement across "the valley of death," which is a high-risk period in between the stage of basic research and a final product.
"There are a lot of funding opportunities for basic research and small start-ups to grow, but there are relatively few funding opportunities for this valley of death," Ransom said. "[Amazon and the UW] are meeting a need that's unique."
Dr. Ransom is particularly excited about this collaboration, because working with Amazon aligns directly with the CSNE's goal of encouraging tech transfer and connecting students with industry.
"The collaboration with Amazon Catalyst provides a means for CSNE students and faculty to garner support for their research projects," Dr. Ransom said. "These researchers often create novel applications or new ideas from their CSNE work, and having an opportunity to explore these applications through the Amazon support is great for them and ultimately promotes tech transfer, which is one of our goals."
Applications for Amazon Catalyst projects can be as simple or complex as the team would like, but they should focus on a specific problem with a clear target population. The program encourages participants to pursue research that piques their curiosity, which can be a welcome change of pace for students who are always pursuing discipline-specific research or projects. This provides an opportunity for students to focus on their passion or meet a relevant need in their own community.
"If you're at [a] university, that's one of the few times you can think big and think original. This is an opportunity to stretch your imagination and make something happen, " said Robert Winglee, a faculty member in the UW Department of Earth and Space Sciences and past funding recipient.
During the past application cycle, Amazon Catalyst awarded 12 grants for projects ranging from Thomas DeLuca's effort to use charcoal to increase the amount of carbon in top soil to Winglee's project for creating high-altitude drones.
"It's specifically focused on high risk innovation as opposed to incrementalism and sharing an idea that you've been building on for many years. We'd looked at more traditional funding avenues and we hadn't gotten any support there because they're not likely to fund agricultural research, especially something that is trying to integrate forestry and organic agriculture in this very small setting," DeLuca said of his funding project, which is housed in the UW School of Environmental and Forest Sciences. "There's a lot of small organic farms spread around the nation, and they get very little attention from funding sources."
Successful applicants are given the title "Amazon Catalyst Fellow," and funding recipients can connect with each other and Amazon officials. The fellows are also supported by UW CoMotion, which offers resources for every stage of the project.
"We have a lot of mentors and advisers, [and] we have a lot of seminars and workshops to help if you're trying to develop a business or come up with a business model or a license deal," said Jeanette Ennis, associate director at UW CoMotion who is also running Amazon Catalyst. "If you don't find it here, we can connect you with other folks who might be able to help."
Students at the CSNE, and from any discipline, are encouraged to apply online to the Amazon Catalyst Program. Applicants just need to complete a 20-minute survey that identifies their problem, goal and stage of the project that requires funding.
Interested individuals should submit proposals for the fall quarter deadline by Nov. 23 at 11:59 p.m. A @uw.edu or @u.washington.edu email address is required for submission. Selected teams will receive up to $100,000, and the amount depends on the specifics of the project. Submissions received after the deadline will be considered next quarter. Funds are released as a lump sum, and the funding is meant to be used for a 12 to 18-month period. After the written application is submitted, members of the Amazon Catalyst Evaluation committee read the proposal and evaluate it. Selected team members come in for an in-person interview to discuss the project details and, after a final committee vote, winners are notified.
"There's no cap on the number of applications they will fund. Amazon has been very clear that if there are a sufficient number of applications that they believe deserve the grant, they will fund [all those] applications," Tao said. "Try and apply, and see what happens."
For more information about the Amazon Catalyst program, contact Dr. Scott Ransom.