Wednesday, January 30, 2019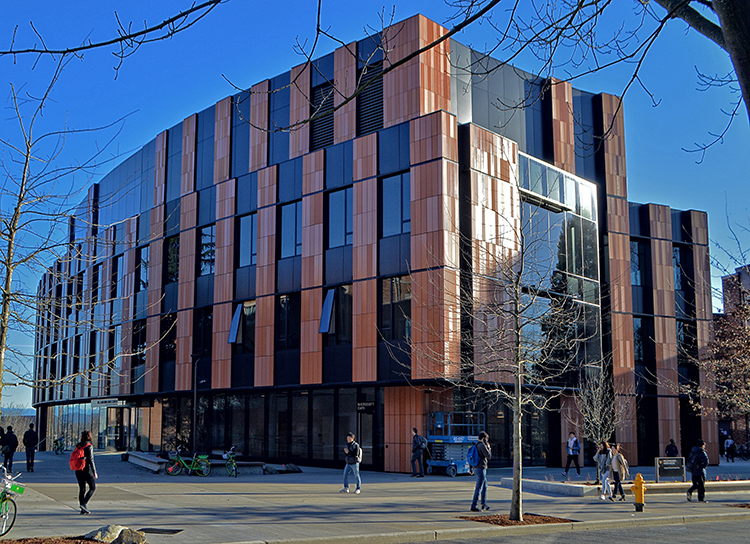 The CNT will be participating in the Bill & Melinda Gates Center Open House from 2:00–5:00 p.m. on Friday, March 1, 2019. Join us to see the center's new headquarters, interact with CNT demonstrations and hear from CNT leadership.  An RSVP is recommended, but not required (it's fine to drop-in).
The Center for Neurotechnology (CNT) is known for its interdisciplinary, collaborative environment and innovative research. Now, the CNT will further enhance its role as a hub for innovation and strengthen its on-campus presence at the University of Washington (UW) by moving to the Bill & Melinda Gates Center for Computer Science & Engineering. Rajesh Rao, co-director of the CNT, believes that this move will encourage collaboration and partnerships between the CNT and the campus community.
"Given that the center originated in the Paul G. Allen School of Computer Science & Engineering (CSE) and several center members including myself have appointments in CSE, it made perfect sense to request space in the new Gates Center," Rao said. "We are grateful that CSE generously allocated both collaborative lab space for our students and faculty as well as offices for our staff."
A new location, in the heart of the UW campus
One of the main benefits of the move is being closer to faculty, staff, and students on campus. Many of the students involved in research for the CNT work in labs in CSE, the Department of Electrical & Computer Engineering, and the School of Medicine in the Health Sciences Building. Luckily, the Bill & Melinda Gates Center for Computer Science & Engineering is located in the middle of campus.
"The move will bring the CNT to the center of campus, making it much more convenient for center students and faculty to use the new space as a 'collaboratorium,'" Rao said. "We have designed it be easily reconfigurable with movable furniture so it can be easily transformed into a student workspace.
Chet Moritz, CNT co-director, is excited about the potential for the new headquarters. "Our goal is to promote frequent and organic interactions between students and faculty from all disciplines that contribute to the center. This includes engineering, neuroscience, computation and ethics. We are breaking down silos and pioneering convergent science and engineering across campus, and our new headquarters in the heart of campus is a physical representation of this convergence."
Fostering cooperative efforts and collaboration
Eric Chudler, executive and education director of the CNT and a research associate professor in the Department of Bioengineering, also hopes that with closer proximity, more students and faculty can attend events held in the center such as end-user and practitioner roundtables, the Women's Career Mentoring Lunch series, and seminars with visiting researchers. Creating and fostering connections in the center can invite faculty and staff to think critically about their own work or identify new projects that interest them.
"By creating a venue for communication, students, staff, and faculty will be able to bounce ideas off each other and spawn new areas of research," Chudler said. "The move will encourage these networks to develop."
Chudler hopes that this move will strengthen ties between the CNT and on-campus departments, but also bolster collaborations across the research community, especially because neural engineering research requires collaboration among researchers, educators, and industry affiliates. Being closer to campus will make it easier for students and researchers that are affiliated with the CNT to work together.
This move provides the center with a collaborative lab space, 3D printers, laser cutters, classrooms for small seminars and brainstorming meetings, and a laboratory built to host research demonstrations and educational field trips for K-12 students and other visitors. The new space will ensure that the CNT continues to be a center known for world-class research collaboration, educational programs, and thoughtful conversation about neurotechnology and its impact.
The CNT is moving to its new home in the Bill & Melinda Gates Center for Computer Science & Engineering on Feb. 1, 2019 and will participate in the building's open house on Friday, March 1.
"We are excited to move to our new home! I believe the move will have a multiplicative effect on the center's already vibrant activities in research, education, and innovation," Rao said.
For directions to and more information about the CNT, visit our website's "Contact Us" page.