Engaging pre-college students and educators through conversation and interactive activities about the brain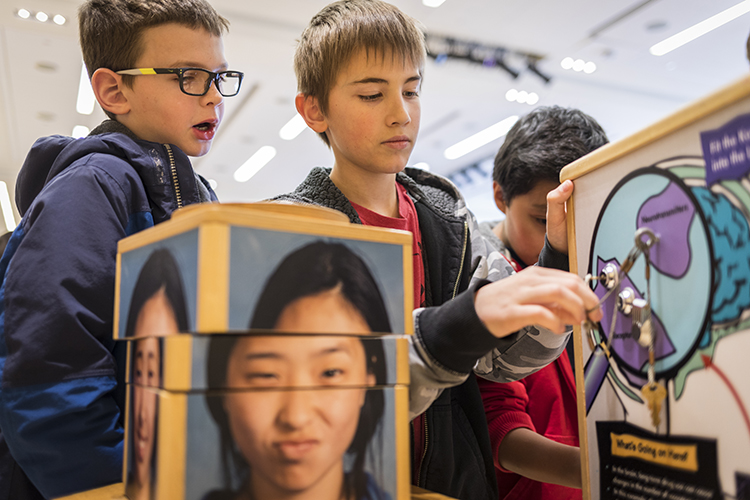 There is a plethora of information and research in circulation about the brain, and since this organ is so central to human function, there are many questions one could ask: do we only use 10 percent of our brain? In what ways does the physical brain change with age? How does the human brain size measure up to other species? Brain Awareness Week (BAW), which takes place March 13 to 19, is a global celebration organized by the Dana Alliance for Brain Initiatives and the Society for Neuroscience, and it is open to people of all ages. BAW aims to answer some of these questions people might have and encourage more.
In line with other events in the community for BAW, the Center for Sensorimotor Neural Engineering (CSNE) hosted an open house in the Husky Union Building (HUB) Ballroom on the University of Washington campus on March 6.  The room bustled with kindergarten through high school students engaging with interactive demos, reading posters, and talking to the researchers and students at every table.
"They're learning content about neuroscience and neural engineering, and I think it's changing their attitudes about science … Those young students can see those researchers as role models," said Dr. Eric Chudler, executive director and education director at the CSNE. "In addition to just getting content, it's important that a young student can see themselves in the role of scientists, and they get [that] most with conversations with graduate students at each booth."
Dr. Chudler said the event attendees were pre-college students and educators from schools in the greater Seattle area as well Kirkland, Woodinville and Shoreline.
"The event brings students onto campus, and I hope that they can then picture themselves as University of Washington students. The open house is only a small part of what they do on campus," Dr. Chudler said. "It's important they come on campus and see what it's like, even for elementary school kids, just to put that idea in the back of their mind."
Dr. Chudler's role in planning the BAW Open House at the University of Washington began 20 years ago when he invited 100 to 200 local pre-college students to visit campus and engage with the field of neuroscience and researchers in the field, and the event has grown ever since.
"It was really a grassroots-type initiative where locally, neuroscientists went out in the community and shared what they knew in lab, and invited the community into their organizations and institutes to see what they did," Dr. Chudler said.
Now, the event has, on average, 700 to 800 students and educators in attendance. Exhibitors range from graduate students to volunteers from the Pacific Science Center and Epilepsy Foundation Northwest, which provide a broad exposure to brain anatomy, how the brain functions and neuroscience as a field.
The event features hands-on exhibits about the brain that engage attendees in neural engineering topics and applications of current research. For example, the Center brings in a device that uses electrical activity from a muscle to control a robotic gripper, which demonstrates the concept of a brain-machine interface. The event also featured activities that demonstrated feedback loops, challenged students to walk in a straight line while wearing goggles that affected their depth perception, and allowed students to feel the physical ridges and fissures in different brains.
Encouraging curiosity in pre-college students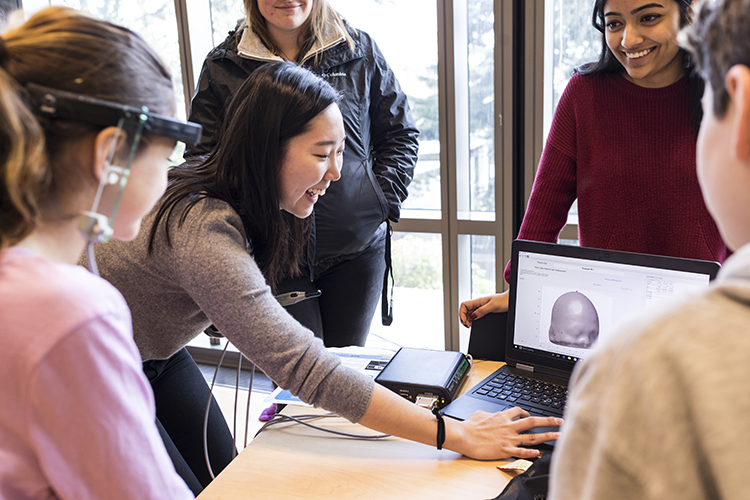 Each booth at the event has interactive activities as well as information, and the pre-college students are encouraged to ask questions of the scientists and researchers at each booth who have years of experience in neural engineering.
"Some teachers see this as an opportunity to expose their students to an area that they are not the experts [in], so it opens a new discipline for students," Dr. Chudler said. "Not only does it expose students to the content, but also careers. A student might not know what kind of career you would have as a scientist. The one-to-one conversation to engage with graduate students is something that is not available to all pre-college students and teachers."
In addition to teaching kids about neuroscience and basic anatomy of the brain, attendees can also learn some of the basic research occurring at the CSNE. The Center's research focuses on engineering neural devices that will help the body heal, feel and move again, impacting those affected by spinal cord injury, stroke and other neurological diseases. There are a large number of neurological diseases that students can learn about.
"Because these [neurological] diseases are so common, kids and adults will probably know someone with a disease of the nervous system. Many of them will not know, 'why is my grandpa forgetting who I am? Why does my grandmother always shake?'" Dr. Chudler said. "With the frequency and incidence of neurological disease, being able to understand the brain will allow them to better understand what a person is going through."
Supporting future exploration of neuroscience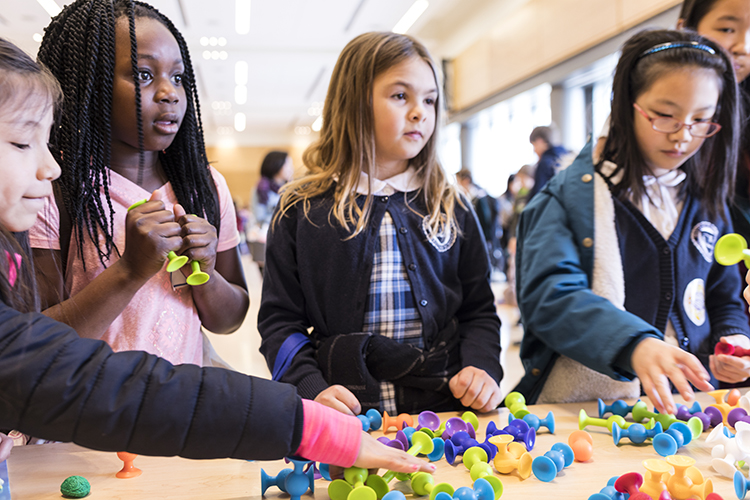 This open house can plant the seed for future exploration of neuroscience and research, which is an important aspect of the Center's education and outreach mission.
"Evidence shows that if you can hook students earlier in their academic careers, they are more likely to retain an interest in that area later on," Dr. Chudler said. "If we nurture that seed of interest in neuroscience and neural engineering, perhaps they will continue and become the next generation of scientists."
This event allows people to learn about public and personal benefits of brain research, which are wide and varied. According to a research paper by Dr. Chudler and Kristen Bergsman that was published in Life Sciences Education, the field of neuroscience has seen consistent growth in the past few decades. To bridge the gap between researchers and the public, outreach events are an effective way to share the impact and potential application of this field's research with the broader community.
Dr. Chudler hopes that students will come home with questions and curiosity about the brain, and that they are interested in learning more. Additionally, to encourage engagement with the event's content about brain structure and function as well as potential applications of current research, the Dana Alliance for Brain Initiatives provided some giveaway prizes, such as activity books for attendees. These materials provide information about neuroscience and activities that students can engage with after the open house. Chudler hopes that students will relay the information they learn during this event and continue to be curious.
"[The open house] doesn't answer all their questions," Dr. Chudler said. "Rather, it opens up the area for new questions. It teaches them the possibilities, and will hopefully spawn new questions about the brain."
For more information about the Brain Awareness Week Open House at the UW , please contact Dr. Eric Chudler.