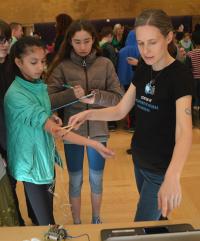 Approximately 800 local elementary and middle-school students attended the Brain Awareness Week Open House, which was held on March 17, 2016 and was supported by the Center for Sensorimotor Neural Engineering (CSNE), along with other sponsors. The event was held in the Husky Union Building, located on the University of Washington's Seattle Campus.
As in past years, students began the Open House by viewing a multimedia "Brain Assembly" presentation by Eric H. Chudler, Ph.D. Students then visited over 20 different exhibits set up by University of Washington departments and other organizations. There they learned about neuroscience and participated in fun activities, such as comparing the brains of different animals and playing with visual illusions. CSNE ran an exhibit at the event, focused on using bioelectric signals to control a neural engineering device. The device used electrical signals from a student's arm or hand muscles to move a small, motorized gripper.
Participation in the Brain Awareness Week Open House aligns with CSNE's mission to increase awareness of neural engineering and help create kindergarten-to-career pathways for students. The event also aims to enhance student awareness of the brain and enthusiasm for studying science, technology, engineering and math-related fields. The Open House was part of Brain Awareness Week, which is a larger, international effort aimed at promoting the public and personal benefits of brain research. Brain Awareness Week ran from March 14—20, 2016.