The Center for Sensorimotor Neural Engineering (CSNE) is a leader among National Science Foundation (NSF)-funded Engineering Research Centers (ERCs) in actively ensuring accessibility of its physical spaces, activities and resources. In the process, the CSNE strives to welcome and engage people with disabilities while increasing awareness about their contributions in the engineering community.
In 2015, the CSNE received additional funding from the National Science Foundation to implement AccessERC, a nationwide initiative that engages ERCs in regular conversation about how to create products, websites, facilities and events that are accessible to everyone.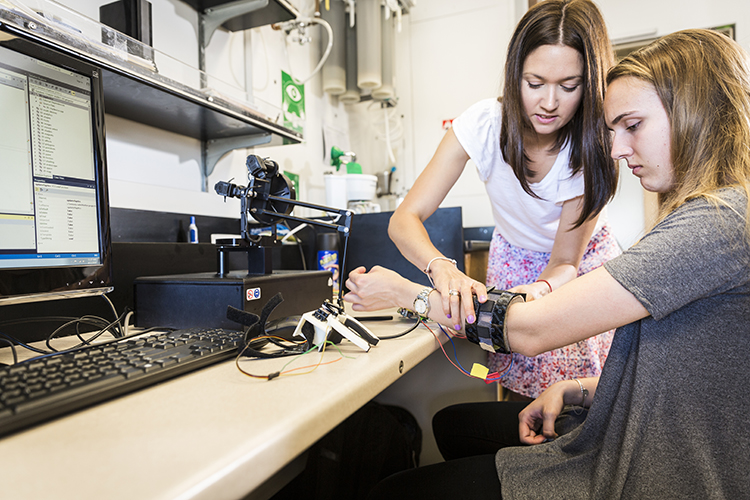 "The mission of AccessERC is to increase the participation of people with disabilities in NSF's ERC Program, and see their unique perspectives as assets," said Sheryl Burgstahler, the CSNE diversity co-director. Scott Bellman, the CSNE diversity manager, added, "AccessERC supports individuals with disabilities, provides consultation to other ERCs and develops products that promote equal access and diversity within the ERC program."
In addition to working at the CSNE, Burgstahler is also the director of the Disabilities, Opportunities, Internetworking, and Technology (DO-IT) Center at the University of Washington (UW). She works with Bellman, the DO-IT project manager, to oversee AccessERC efforts to engage ERCs through online communities, conferences for ERC leaders across the nation and website information with resources about best practices.
Providing advice to ERCs across the nation: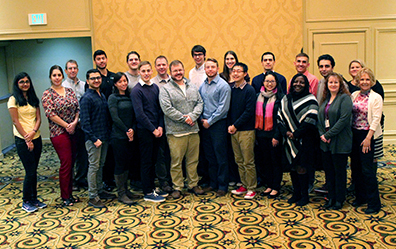 The AccessERC initiative conducts community-building activities that advises ERC staff across the nation on how to welcome and engage people with disabilities. One example of this was a capacity-building conference titled "Increasing the Participation of People with Disabilities in Engineering Research Centers," which took place in Jan. 2017 at Hotel Deca in Seattle, Washington. This event was an opportunity to facilitate conversation about the CSNE's efforts to create a welcoming space for students with disabilities, and provide suggestions for other ERCs to do the same.
The conference participants ranged from technology accessibility specialists to graduate students involved with various student leadership councils in ERCs across the nation. Everyone in attendance was motivated by the goal to more effectively support people with disabilities. Agenda topics included accessible websites and information technology, disability culture, reasonable accommodations, outreach strategies and universal design.
During a discussion of disability accommodations and universal design at the conference, Burgstahler emphasized the importance of creating an inclusive community by allowing students with disabilities to express their own needs in a space where they would be respected. She encouraged student and faculty leaders to create these dedicated spaces through regular programming like student panels or focus groups that actively include people with disabilities. Burgstahler also emphasized that AccessERC can provide financial support for these programs.
The conference included a panel presentation delivered by students with disabilities. This panel featured Hannah Werbel, a current sophomore studying computer science at the UW and freshman recipient of the President's Medalist Award. Werbelnoted that she has to regularly request classroom accommodations for her visual impairment. Werbel frequently participates in student panels, and she always encourages members of the community to ask students directly about what they need to be supported in the classroom or the lab.
"Most students with disabilities are very open to communicating and talking about what they need, and what works best for them," Werbel said. "You can come up with all these ingenious solutions, but it doesn't matter if it doesn't work for that student."
Werbel said that some professors or scientists may not be aware of the process to secure accommodations for their students, but encouraging them to meet directly with students with disabilities can provide insight about how to best provide support.
"[One] misconception is that it's really hard to support students with disabilities in research labs. Having these panels and community gatherings is a reminder that it's actually not. Most people bring accommodations with them," Werbel said. "It's really important to get more people motivated to work with students with disabilities."
Additionally, Werbel suggested that researchers and ERC staff should see students with disabilities for their potential and recognize the valuable perspective they bring to a team or project.
"Don't underestimate students with disabilities. They have the exact same potential as any other student, and they should be treated like any other student," Werbel said.
Connecting people with disabilities to necessary materials and technology: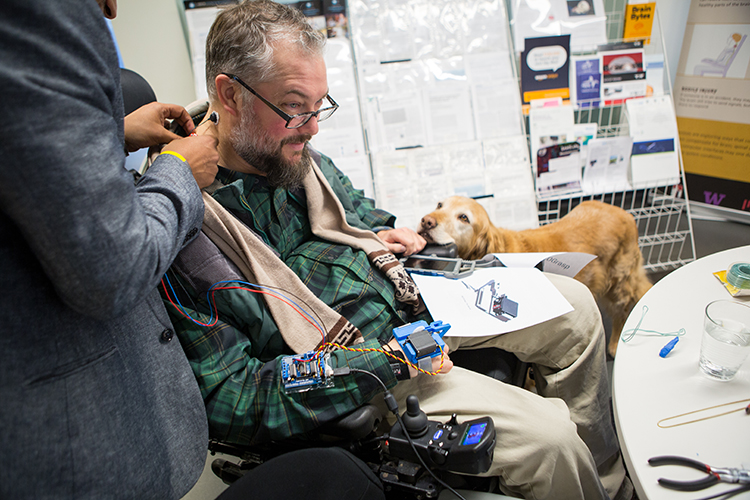 In addition to encouraging community-wide conversations among ERC staff members, AccessERC also provides resources for individuals with disabilities to empower them in the classroom, lab or work setting. Securing these resources can sometimes be challenging, especially as students with disabilities shift to a role of self-advocacy when they transition from the K-12 system to a post-secondary education.
"I had to rethink how I would access a lot of materials. In high school, I had a system that would allow me to see the board up close," Werbel said. "In large lecture halls, there's too many wires and pieces of equipment for that to work."
For example, because Werbel is legally blind, she proactively communicates with professors before each quarter starts to acquire notes in advance or work with a student note taker.
Students with a wide range of disabilities have to overcome a variety of challenges when trying to secure accommodations like sign language interpreters or access to notes from other students in the class. The UW DO-IT Center supports students with disabilities by offering resources such as mentoring communities, assistive technology and advice about how to navigate the process for securing accommodations. For example, Werbel uses software that converts PDFs to Microsoft Word documents to make them compatible with a screen reader, and Smartpens that sync writing with recorded audio.
Ultimately, the DO-IT programs are underpinned by the idea that everyone has the capacity to succeed, and these resources can help students achieve their fullest potential in the classroom.
"There will always be negative stereotypes about people with disabilities, and people are always underestimating what we can do, or what I can do," Werbel said. "What motivates me is trying to prove those people wrong, and trying to be the person who can change people's minds and perceptions about people's abilities."
Students with disabilities can also request accommodations for lab work. For example, Werbel excelled in Dr. Howard Chizeck's BioRobotics Lab on a project about the security of brain-computer interfaces during the CSNE Young Scholars Program. Prior to the program, she met with the principal investigator of the project to discuss the accommodations she'd need, such as a large computer screen for coding.
"They set up two monitors, and they ended up having a leftover gaming monitor." Werbel said. "They were able to set it up for me so I could access the computer programs better."
Providing consultation through online resources and mentoring: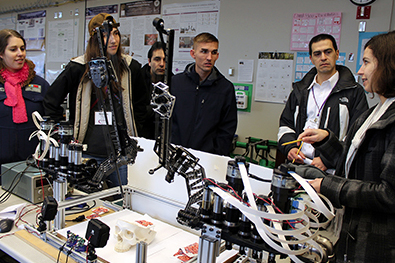 ERCs across the nation can adopt AccessERC training used at the CSNE and learn about best practices and guidelines to ensure accessibility, which are available through videos and other resources on the AccessERC website. In particular, universal design is the cornerstone of creating an environment that is inclusive to people with disabilities. Staff at the CSNE and DO-IT work with ERCs through online mentoring to identify areas of improvement and recommendations to ensure the accessibility of physical spaces and/or community events.
Ultimately, Burgstahler noted that supporting people with disabilities, and other underrepresented groups in science, engineering, technology and mathematics (STEM) fields, occurs through continued conversation and engagement. Werbel echoed this sentiment and encouraged community members to see people with disabilities for their ability to contribute to projects and STEM fields.
"Be willing to accept people's differences and people doing things in different ways – it doesn't necessarily mean they can't do the same things. They may take a different process to get there," Werbel said. "They might take the ramp instead of stairs, but they will still get through the door … That can be broadly applied to not just people with disabilities, but anyone."
For more information about AccessERC and the CSNE's efforts to create an inclusive community for people with disabilities, contact the CSNE Co-Director of Diversity Sheryl Burgstahler or CSNE Diversity Manager Scott Bellman.