Thursday, August 24, 2017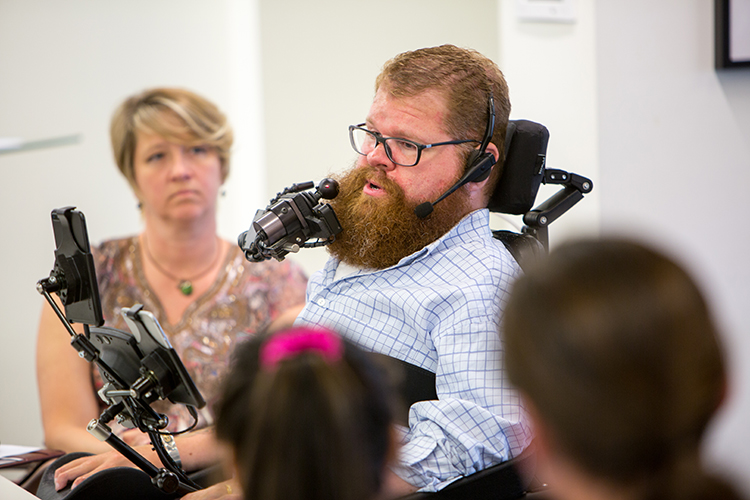 When Todd Stabelfeldt, affectionately dubbed "The Quadfather" by the group of friends he rolls with, visited the Center for Sensorimotor Neural Engineering (CSNE) to speak at the Aug. 2 practitioner and end-user roundtable, he quickly commanded the room's attention with disarming honesty, a no-nonsense attitude and down-to-earth humor. "I roll in the coolest-ass wheelchair in this world. It's a Permobil F5. Black-on-black, murdered-out. West Coast style," Stabelfeldt quipped, as he demonstrated the high-tech features of his ride with flair.
Operated chiefly by a combination of facial and tongue movements, Stabelfeldt's wheelchair features an array of devices and controls, including two iPhones for taking notes, texting and talking, buttons for tilting and raising his chair to an elevated position, and fiber optic switches embedded in a small ball controlled by his lip/chin, called a "gimbal," which is used for turning the chair on, driving it forward and turning left and right. Much of the chair's technology is relatively new or still in prototype, having not yet reached the market. Driven in part by a desire to be self-reliant and help others, Stabelfeldt said that he rarely says "no" when asked to try out new technology.
In response to a hypothetical question from CSNE neuroethics research leader, Sara Goering, about his willingness to try an implanted brain-computer interface designed to operate his wheelchair through his thoughts alone, Stabelfeldt was at first very resistant to the idea. "Somebody wants to install something in me? I'm waiting for service pack two," he said. However, after his wife, Karen, reminded him and the roundtable attendees that in her observation, he was almost always willing to test beta-technology, Stabelfeldt admitted that he would probably give brain-computer interfaces a try if he thought it might help others.
"My wife knows that I have this innate desire to assist, so if you came to me and said, 'Hey, I want to plug this into you,' I probably would say 'okay,' because that is just inherently Todd Stabelfeldt," he said. He continued wryly, "I don't want something inside me…okay? But if you come to me, you're probably going to get me [to try an implanted brain-computer interface]."
The purpose of the CSNE's practitioner and end-user roundtable is to bring people impacted by sensorimotor disorders, like Stabelfeldt, into direct contact and dialogue with CSNE-affiliated students, faculty and staff. As Stabelfeldt continued to share his personal experience with quadriplegia, punctuated by his direct remarks and trademark humor, it became clear that this conversation would leave attendees with many useful, unique and perhaps even profound takeaways.
Life takes an unexpected turn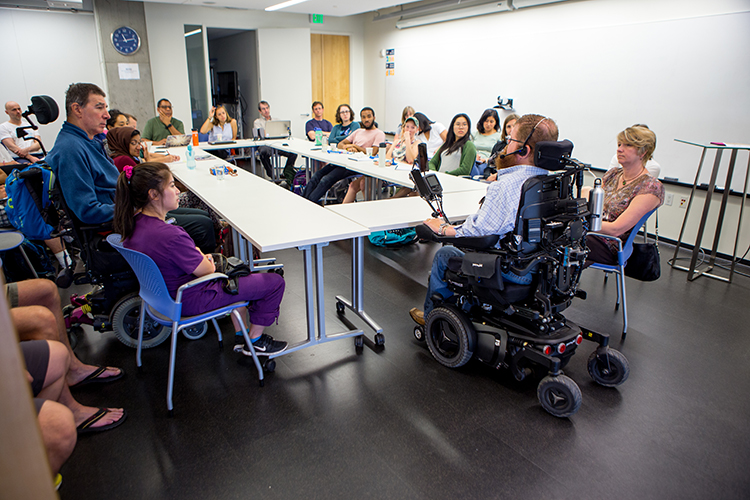 Stabelfeldt's life story started out with an extremely difficult chapter. On August 13, 1987, at the age of 8, he was playing in the spare bedroom of his mother's house with his 11-year old cousin. The two began toying with a 22 small-caliber rifle and some bullets that Stabelfeldt's mother had temporarily stored there. The cousin asked to take a closer look at the gun Stabelfeldt was holding at the time, which is when Stabelfeldt was accidentally shot.
"I can remember every moment, every scent, every scene, every fragment of that nightmare," Stabelfeldt said. "Bottom line is, I got shot. It paralyzed me. I got airlifted to Harborview, which is down the street [from the CSNE], was there for six weeks. This was the 80s… I'm 8. I'm in an oscillating bed, on a ventilator, can't speak."
Rehabilitation following the accident included a yearlong stay at Children's Hospital, where Stabelfeldt managed to get off the ventilator, learn to talk, and regain some movement in his shoulders, which doctors had told him he would never do. He was given a wheelchair, which he learned to drive with his chin.
"That was all of my second-grade summer, going into third grade. I didn't think this was going to be a lifetime. I thought this was just like a moment, right?! A season," Stabelfeldt said. "In fact, I had planned to go back to third grade wearing scrubs. I thought scrubs were really cool. I wanted blue ones. That never happened."
After returning home from the hospital, Stabelfeldt's mother opted for a tough-love approach, letting him know that she would support him until he was 20 years old, but after that, he was on his own. This stark reality-check may not have worked for some, but it only increased Stabelfeldt's desire to someday become self-reliant, fully independent and his own man.
"I'm German. I'm super-Navy, and I'm really Southern," Stabelfeldt said. "You add all those ingredients up, and it was sort of like, 'I'll show you, Mom.'"
Learning self-reliance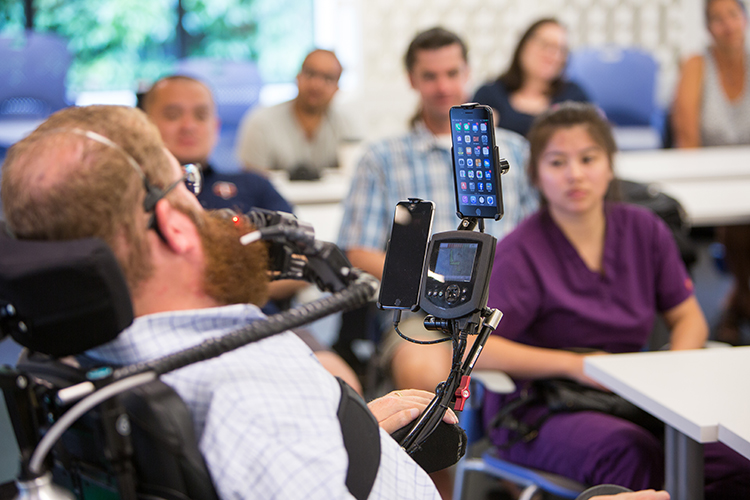 When Stabelfeldt was 14, his mother re-married, and the focus on what her son would do to support himself intensified. Stabelfeldt wanted to be in the military, but he realized that because of his medical condition (C4 paralysis), it just wasn't possible. He talked with his mother and stepfather about becoming a psychiatrist. The family supported his desires, but they decided together that having a back-up plan was important.
Stabelfeldt and his parents made phone calls and asked around, discovering a school that could work for him, along with some supplementary programs at the University of Washington (UW), which included a CSNE partner, the Disability Opportunities Internetworking and Technology (DO-IT) program. Because of some quirks in the system, Stabelfeldt ended up having to move out and become emancipated from his parents to qualify for government funding for his education. So, at 16, he was living in Edmonds and going to a community college, studying software development. He was on his own.
At 17, Stabelfeldt completed his Associates degree at RCH Technical Institute. Unfortunately, it wasn't considered valid, because he hadn't yet completed high school, so he went back to Renton to finish-up his education at Limbergh High School. By the end of his 17th year, he had earned both his high school diploma and his Associates degree, outpacing most of his peers. Already, at this young age, Stabelfeldt was exhibiting an uncommon drive and determination.
Finding a job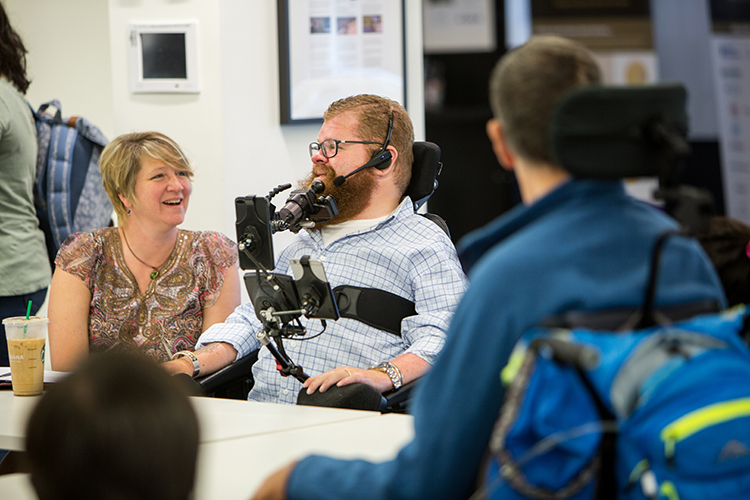 Stabelfeldt's next step was to look for gainful employment. Staff at the DO-IT program helped him to write a resume, and he applied for every single Information Technology job he saw listed in the Seattle Post-Intelligencer and Seattle Times. The combination of his young age, lack of experience and disability made finding a job exceptionally tough, but after 170-plus applications, he finally found a company that would hire him.
"I have this thing called, 'grit.' I have a grit that might not even be defined in this language. It is something within me, that serves, and says, 'No is not an option, yes, is the only way, and it better be done sexy, and it better be done with a level of elegance," Stabelfeldt said. "You have to show and demonstrate to everybody in the world that this is possible, this is successful, and if you have the level grit that's needed, you can do it too. And maybe in 50 years, it might be easier, but right now, you are Lewis and you are Clark, so man up and go do it. That's exactly what I did."
Shortly after he turned 18, Stabelfeldt landed a job at a small medical software company on Bainbridge Island. He was then living in Renton, which meant getting up at 3:00 a.m. and making the long commute by ferry to arrive at work by 8:00 a.m. He was also getting paid half of what his true market value was, but to Stabelfeldt, the job was a solid boost to his self-esteem, and that made it all worthwhile.
"[I was] blown away. I have a job. I'm working. Every day. That thing starts to brew inside that says, 'You're wanted. You're needed. You're valuable. You're a value-add. You're something good,'" Stabelfeldt said. "And my response to that was, 'I'm going to give you my bone marrow.' Because this was righteous."
When he was 20 years old, Stabelfeldt received a raise from his employer, effectively bringing his pay up to full market value. 13 years later, at the age of 33, Stabelfeldt was the vice-president of operations. He had made it to the top, and he was in-charge of it all.
"Then it hits me that I'm taking care of people, which was what I always wanted to do," Stabelfeldt said.
Convenience for you is independence for me
The road for Stabelfeldt since then has not been without its challenges, but he has continued to add to a long list of accomplishments. Five years ago, he left his job of roughly 15 years and started his own business, C4 Database Management (a play on words, giving a wink and a nod to his C4-spinal cord injury). He also met and married the love of his life, Karen, becoming a stepfather in the process. Now, he is regularly sought after to speak about design and accessibility, recently giving a talk at Apple's Worldwide Developer's Conference (WWDC) alongside other luminaries, such as Michelle Obama. In addition to this, he was featured in a video aptly named, "The Quadfather," which promotes Apple products he uses regularly in his smart-home.
Todd and Karen Stabelfeldt are making a point to share their story, as well as stories of other people with disabilities who have been positively impacted by good and accessible design. At the roundtable, CSNE faculty member, Kat Steele, asked Stabelfeldt what he told Apple engineers attending the WWDC. "It was simple. After you brought me the phone, you brought me the world. Good job," Stabelfeldt said. "There's millions of us. We're all valuable. Every life matters. We all want jobs. The computer's a great equalizer. How about an untapped workforce of super-disabled people? Speech-rec [recognition] for the quadriplegic is speech-rec for the world. Convenience for you is independence for me."
Independence matters greatly to Stabelfeldt. He noted how gaining a sense of independence and self-reliance impacts a person's self-image in ways that put them on an equal playing field with "normal" people. "I'm Todd, and I have quadriplegia," Stabelfeldt said. "I'm not some crippled dude named Todd or some quadriplegic named Todd. No, I'm a grown man."
Choosing your own story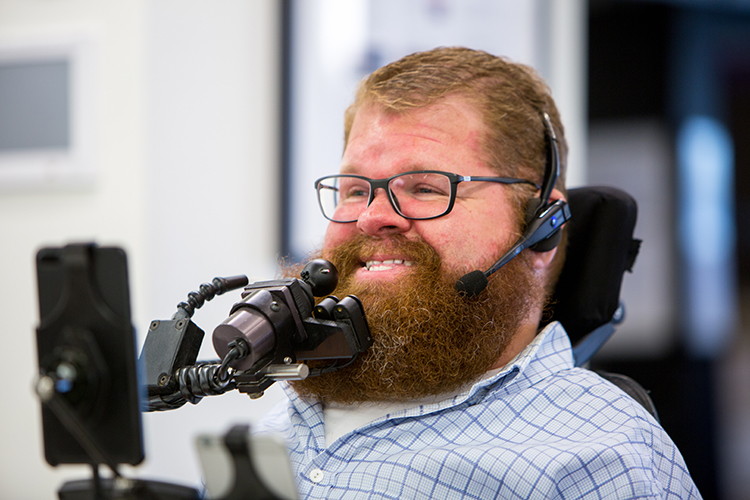 The theme of independence, self-reliance and self-respect repeated itself several times in Stabelfeldt's talk and the following Q&A session at the roundtable. The role of technology in empowering, but sometimes hindering, independence was also discussed, along with the importance of consciously choosing to have a positive outlook in life, despite the challenges. Again, Stabelfeldt's stance was one of grit, no apologies and no regrets. "Everything in my story is a struggle. Everything. I just choose to not make it a big one, and I choose to not let it stop my story," Stabelfeldt said. "I still want to live, and I want to live well."
When asked what it was like to become a stepparent, Stabelfeldt replied, "It's just fascinating to become a parent, and I don't regret a minute of it now. I don't regret getting shot in the face, because I got to meet Karen, and that's no joke there. That's not some cliché, cripple inspiration. It's just legit, factual, real."
Perhaps the most powerful moment in the roundtable came when attendee Mickey Gendler, who himself is disabled, asked Stabelfeldt if he had a moment, or a day, or a week where he made a conscious decision to choose the attitude he was going to have the rest of his life. Stabelfeldt's answer was surprisingly touching, and again underscored the importance of a positive self-image and self-respect when dealing with a disability.
"What I did, was, I finally opened the door, flipped on the lights in the room with the 8-year old boy, who's name was Todd. I said, man, I've been avoiding you. What do you want? I want a hug. I didn't ask for any of this. Why have you left me in this room? When do I get to be heard? I told the eight-year old I'm sorry, I hugged him, we walked out of the room together, and we've been kicking ass ever since. He wanted to be named. He wanted to be hugged, and he wanted to be heard. That's what I did, son. It still brings a tear. It's emotional, but he's alive and well, and he's doing great. He's been heard, and he's been validated. That's what I did."
Impact on CSNE students, faculty and staff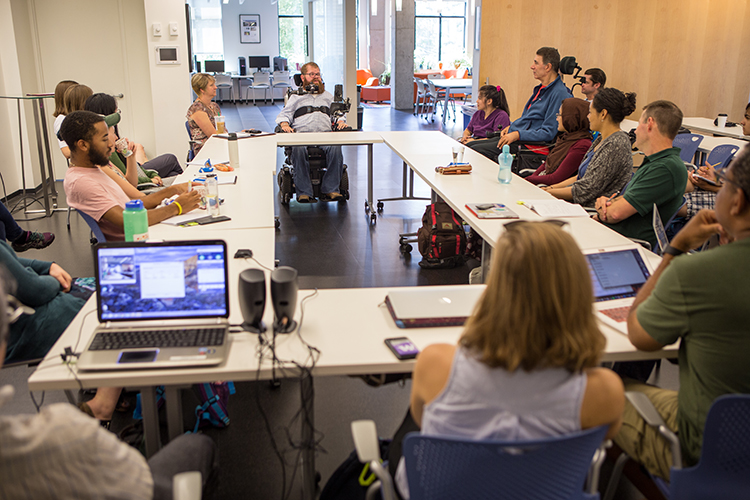 In many cases, undergraduate students have never had a chance to speak with a disabled person, like Stabelfeldt, about the individual's injury and priorities. The CSNE's practitioner and end-user roundtable provides a safe environment for students, as well as faculty and staff, to do this. It's an opportunity for people to have an honest conversation in ways that will help inform and influence the design of neural engineering technologies going forward.
"It's very dear to my heart. It's one of my favorite programs. I think that it's really important," Lise Johnson, CSNE undergraduate education manager and roundtable facilitator said. "This is something that I never had when I was a student, nobody ever organized things like this, and if nothing else, it gives you a little bit of motivation when you are lacking motivation. It helps you put a face to this nameless population that's out there."
As CSNE neuroethics research leader, Eran Klein, put it, "When you see how hard he [Todd Stabelfeldt] works to overcome barriers in his life, it provides added motivation to produce products that can assist him (and others)."
This roundtable, which is held periodically throughout the year at the CSNE, presents a variety of experiences and life stories through the lens of different types of people who are featured.
"The human experience is a vast one, and learning about different people's experiences through this end-user roundtable series is enlightening," Nile Wilson, UW Bioengineering PhD student at the UW and CSNE student member, said. "No two people share the same journey, and as a result, we hear different perspectives each time."
What does Stabelfeldt want young engineers and neuroscientists to know most? When asked this question, he replied in typical Quadfather fashion, "I don't know why the hell you picked this career, but you did. Now step up and go do it. Own it. Name it. Claim it. Whatever color shade you can wrap around it, do it. When you give a man respect, give a man purpose—guess what he does? Rewrites the world."
Learn more about Todd Stabelfeldt's story in this recent GeekWire article. For more information about the CSNE's practitioner and end-user roundtable, contact Lise Johnson.