"Virtual REACH Program 2020: Exploring Neuroscience and Neurotechnologies at Home" is an interactive digital book for secondary students to explore topics related to neuroscience,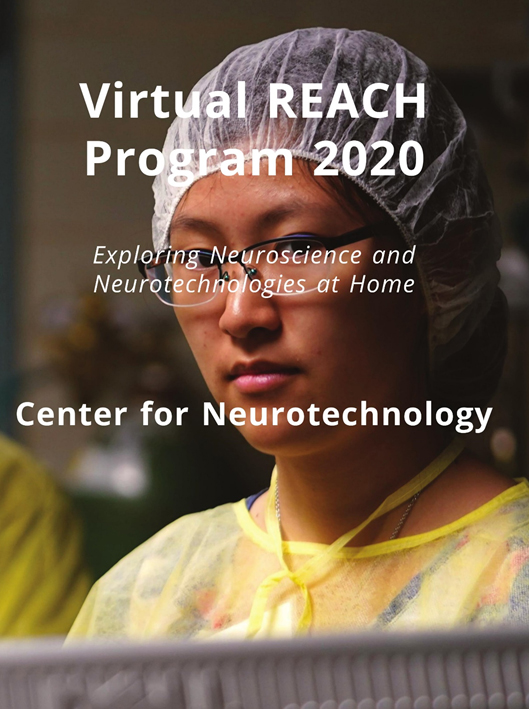 neural engineering, and neuroethics. It was co-authored by Dr. Kristen Clapper Bergsman, CNT Engineering Education Research Manager and Dr. Eric H. Chudler, CNT Executive Director and Education Director. The e-book was designed to support at-home learning for a summer camp program for high school students at the Center for Neurotechnology, which was transitioned to a fully online format due to the COVID-19 pandemic. The interactive format includes many resources for self-directed learning: readings, links to journal articles, videos, activities, and embedded quizzes. This e-book contains five chapters: 1) Basics of Neuroscience & Neural Engineering; 2) Brain-Computer Interfaces (BCI); 3) Brain and Spinal Cord Stimulation; 4) Neuroethics; 5) College and Career Pathways. The e-book also features a glossary and information on how to read articles from academic journals.
What is great about this book?
This interactive digital book for secondary students presents cutting-edge examples of research in the fields of neuroscience, neural engineering, and neuroethics. The book presents case studies, career profiles, research spotlights, examples of engineered devices, as well as explanations of basic scientific principles.
The e-book format allows for students to engage as little or as much as their interest and time allows. Each of the five chapters provides multiple modes of engagement: readings, images, videos, quizzes, and activities. It could be used by classroom teachers as a resource during remote learning (many great opportunities for differentiation in the book), by homeschoolers as part of their science or engineering studies, or by any youth who are interested in these topics.
In what ways can I use this e-book?
The e-book was published with a Creative Commons Attribution-NonCommercial-ShareAlike (CC BY-NC-SA) license. Educators may adapt or remix the content, within the bounds of the license, for their own use. This license lets others remix, adapt, and build upon this work for non-commercial purposes, as long as they credit the Center for Neurotechnology and original authors and license their new creations under the identical terms.
Why was this e-book created?
This e-book was created to support at-home learning for students enrolled in the Virtual REACH Program, a 5-day long, fully online summer camp offered during July 2020. The Young Scholars Program-REACH is normally offered as an in-person summer camp for high school students. However, health and safety concerns due to the COVID-19 pandemic led to the program being offered instead in a virtual format. The Virtual REACH Program offered videoconferences with speakers around a daily theme, coordinated with the five chapters in the e-book.
Learn more about how this e-book was used during an online summer camp in the article "Adapting a Neural Engineering Summer Camp for High School Students to a Fully Online Experience" (Bergsman & Chudler, 2020, Journal of Biomedical Engineering Education). https://link.springer.com/article/10.1007%2Fs43683-020-00011-2