Circuitry and Sensory Substitution
A 2-Week Curriculum Unit for High School Physics and Cambridge IGCSE Physics Courses.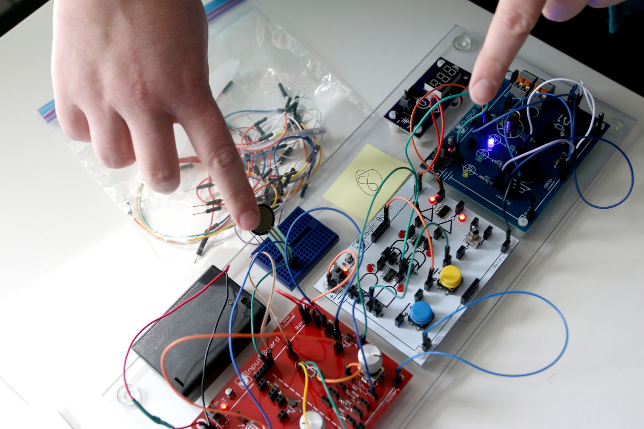 In this two week unit, students extend their knowledge of basic electric circuits by studying the function and use of more complex components (e.g., thermistors, LDRs, logic gates, LEDs, etc.) in the context of a neural engineering design project. Students are introduced to basic neuroscience principles (e.g., the brain, neurons, motor cortex, brain-computer interfaces, etc.) and use these concepts to design, build, optimize, evaluate, and present a sensory-substitution device, modeled as an assistive device on circuit boards (the anchoring design problem).
In Lesson 1: Brain and Computer Connections, students are introduced to the similarities and differences between the brain and computers and how they are connected through use of an EMG-controlled gripper claw. They learn about and discuss some of the practical and ethical considerations in neuroscience and specifically of sensory substitution devices.
In Lesson 2: Sensor and Logic Circuits, students explore more complex circuit components through the use of SnapCircuits, and practice problem-solving with complex circuit diagrams.
In Lesson 3: Engineering the Circuit, students engage in the practices of engineering design as they work in teams to design, build, and iterate on their model sensory substitution devices.
In Lesson 4: Evaluating the Prototype, students will evaluate their prototypes and the unit will culminate in a scientific poster session in which students present and evaluate their final models.
Some of the lessons in this unit feature special equipment, including Backyard Brains' The Claw EMG gripper hand, Snap Circuit kits and components, circuitry components (e.g., sensors, motors, LEDs), and custom-designed circuit boards.
These lessons were developed by Alexandra Pike, a National Board certified physics teacher at Juanita High School (Lake Washington School District) in Kirkland, WA as part of the 2016-2018 CNT Research Experience for Teachers program. This curriculum was implemented in February 2017 and February 2018 at Juanita High School, in Kirkland, WA. Implementation occurred with two sections of 10th grade Physics students each year, for 113 students in total.
Download the full curriculum lesson here or the individual lesson plans and slide decks below.
Unit Overview (includes information on alignment to national standards)
Lesson One: Brain and Computer Connections
Lesson Two: Sensor and Logic Circuits
Lesson Three: Engineering the Circuit
Lesson Four: Evaluating the Prototypes
The designer of this unit, Alexandra Pike, authored a paper that was presented as a poster at the 2018 annual meeting of the American Society for Engineering Education (ASEE). This paper, "Integrating Authentic Engineering Design into a High School Physics Course," shares results of an evaluation of student learning after participation in this physics curriculum unit. The paper can be accessed here by choosing the green "download paper" option:
https://www.asee.org/public/conferences/106/papers/22565/view
The author of this unit has also been featured in various articles. Explore:
When Science Teachers Return for Multiple Years of the CNT's Research Experience for Teachers Program, Everyone Benefits (October 2018)
This curriculum unit is also available through the Link Engineering Educator Exchange.