Thursday, February 23, 2017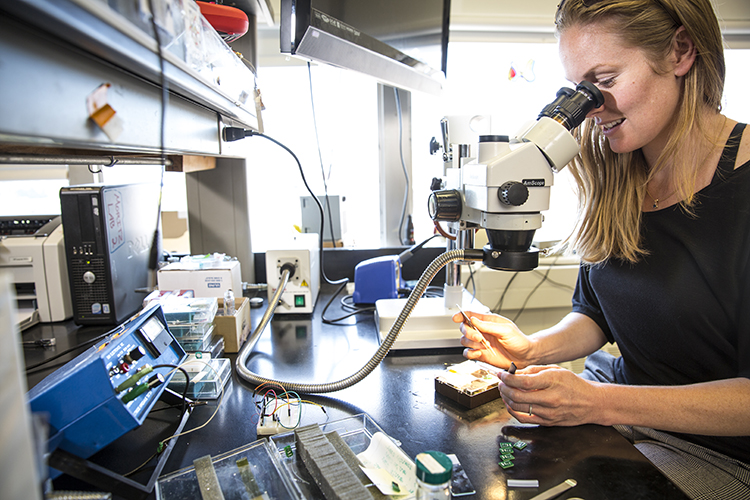 A recent Reuters article outlined that although women in science, technology, engineering and mathematics (STEM) fields collaborate widely with other researchers, they are still underrepresented in physics, engineering, and computer science fields. To address current gender disparities and empower future women in STEM fields, departments at the University of Washington (UW) have focused on creating a supportive environment that empowers women through programs, mentorship and community. For example, the UW Department of Computer Science & Engineering embraces the National Science Foundation's goal to increase the number of U.S. citizens and residents who receive computer science degrees, with an emphasis on supporting women, people with disabilities and underrepresented minorities. This effort feeds into the UW's larger mission of cultivating a diverse student body and empowering students to pursue careers in STEM fields.
The Center for Sensorimotor Neural Engineering (CSNE) is also committed to supporting diverse populations, including women, in their pursuit of STEM fields both inside and outside the classroom. The Center supports this goal by connecting current students with female professionals in the field through the Women's Career-Mentoring Lunch series. This event creates a space for women to chat, build community and make connections with mentors or role models in STEM fields. The event is open to female undergraduates, graduates and post-doctoral students who are affiliated with the CSNE.
"Historically, engineering is a field that has been difficult for women to enter. One reason is that young women have traditionally been discouraged from preparing for rigorous engineering programs," said Scott Bellman, the CSNE's diversity manager and manager of the UW's Disability, Opportunities, Internetworking and Technology (DO-IT) program. "The Women's Career-Mentoring Lunch series allows more seasoned female engineers to answer questions and provide advice and encouragement to younger female students and faculty. The series provides crucial role models and a support network for them."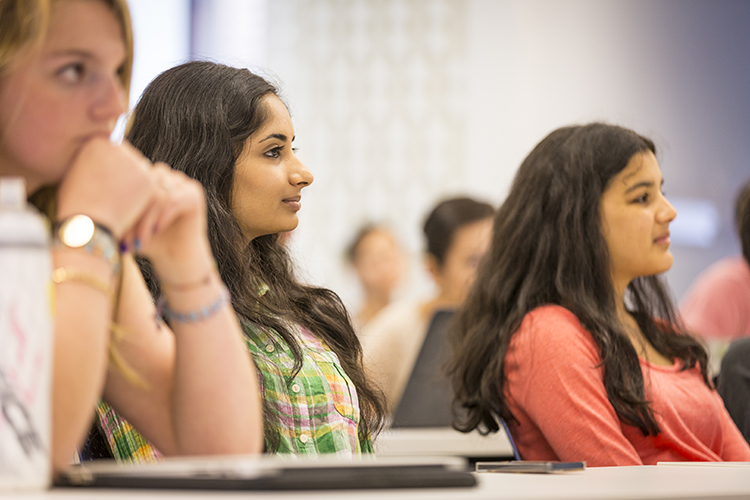 Instead of focusing on slides and scripted presentations, the event centers around authentic conversations among CSNE women over lunch. Everyone is encouraged to discuss their background, interests and past challenges in this collaborative safe space. Topics vary depending on the group but may include strategies to maintain work-life balance, discussions about influential role models that helped group members obtain their current positions and stories of overcoming challenges as women in STEM fields.
"There is a tendency for women to feel isolated and marginalized because they have different things going on in their lives. It's nice to realize that there are other people who understand what you're talking about and can empathize with your experience," said Dr. Lise Johnson, the CSNE college education manager. "Not everyone balances those things in the same way, so it's interesting to see how people approach that successfully."
Dr. Kristi Morgansen, current full associate professor and associate chair for academics in the University of Washington Department of Aerospace & Astronautics (UW A&A), was the keynote speaker for the most recent event in the series, and she began by explaining her journey to receive tenure at the UW.
"I was the first female faculty member in my department, and the only one for 10 years. That made me the first one to have children, and that's where some challenges came up because people were not in the habit of running time-constrained meetings," Dr. Morgansen said. "I've worked on getting people more structured, and that's been a long process but better for everybody. Some of that, I've been a leader in, and getting some of the policies around parental leave, not just for women but any of the faculty in the department."
Now, Dr. Morgansen is welcomed as a scientist and mother in UW A&A. As the current associate chair of the department, she has the authority to change the curriculum and policies to improve the climate and foster diversity.
"Sometimes, it just helps to know that you're not the first one going through it," Dr. Morgansen said. "Women tend to be harder on themselves … it can be really difficult if you're with a bunch of guys that don't ever go through that."
The attendees also hear about other's journeys to enter STEM fields, and some of the challenges that women faced as they paved their way into their departments or areas of research.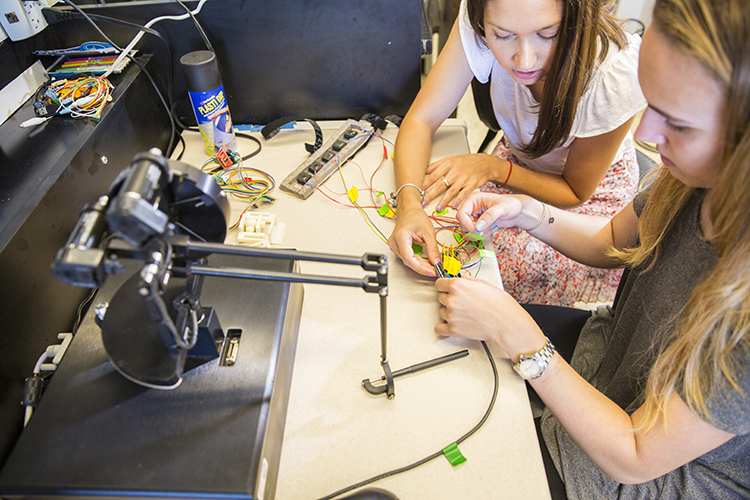 "With increasing numbers in terms of demographics, there's no magic bullet. It's just partly hard work and partly time," Dr. Morgansen said. "You have to find ways to keep doing it. It will take a generational shift to fix it. If you let up too early, it's not going to show the results."
One of the attendees was Gusti Lulu Fatima, a Research Experience for Undergraduates (REU) fellow and rising UW senior in molecular, cellular and developmental biology. Growing up in Banjarmasin, a small city in Indonesia, Lulu said that women were encouraged to focus on family life, rather than pursue STEM careers. She appreciated the opportunity to hear from respected leaders in the field like Dr. Morgansen.
"I was really impressed that the CSNE was willing to invest in a Women's Mentoring Lunch. I don't see that often in other science programs," Lulu said. "[Dr. Morgansen] gave great insight about how hard it is, and how they overcame challenges with balancing personal life and work life, and those are the things you can't learn through books or typical seminars."
Despite some of the cultural barriers, Lulu was inspired by her mother, who completed her PhD on consumer behavior while raising three kids. Lulu said that having her mother as a mentor reminded her that she can have a family and an education rather than being limited to choosing one over the other.
"I always knew that I wanted to have a career in science, but convincing other people was hard. That resonated with [Dr. Morgansen] because in her time, it was also hard for her because she was one of the first women faculty [in her department]," Lulu said.  "Although that was a few years ago, it's still happening, but in different geographic regions."
Lulu is also inspired by women who excel in STEM at the UW. She took a data science class with Dr. Bing(ni) Brunton, an assistant professor in the UW Department of Biology, data science fellow of the UW eScience Institute and CSNE member.
"At first, I was intimidated by coding [and] data science because most prominent figures in the field are male, and I had absolutely no experience in it. However, after taking a class with Professor Bingni Brunton, I was inspired to take on the challenge of learning the skill," Lulu said. "Her enthusiasm in computational neuroscience has inspired me to take on the challenge of delving further into my research. Now, I spend a lot of time coding in my lab."
Lulu said that the small-scale environment of the Women's Career-Mentoring Lunch made her feel more comfortable to share and ask questions.
"UW is a really big institution, and having this event for smaller communities is a really great way to reach out to people," Lulu said. "A lot of people, including me, may be afraid to ask for help. Forming these small communities, these women in STEM professions are able to reach out and interact with us in a more private setting."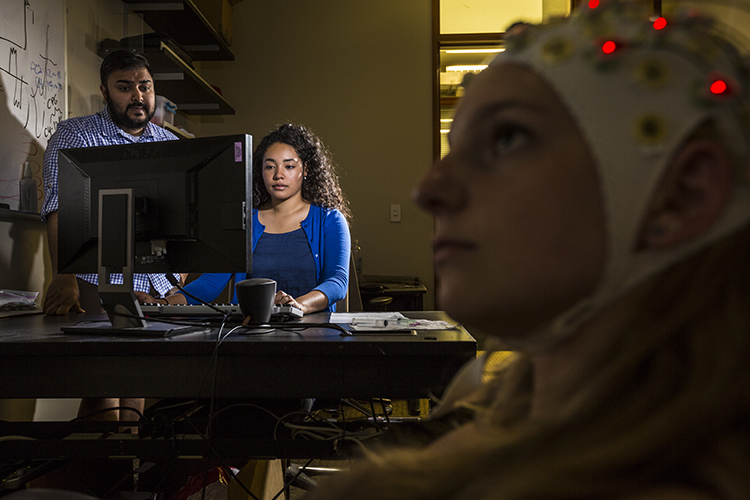 Some people, particularly women, may feel like they do not "deserve" their spot in a STEM major or career, particularly if they don't see themselves reflected in the demographics of the department or classroom. This experience can be one of imposter syndrome, which was a topic of conversation at the last mentoring lunch. Katherine Pratt, a UW/CSNE graduate student, has attended previous events in this series and is passionate about facilitating conversations about this topic. She held an imposter syndrome workshop in August 2016 for the CSNE summer program participants.
"It's nice to be aware of it so you don't think, 'I only got here because I'm a woman,' or 'I only got here because of minority status,'" Katherine said. "Anyone can have imposter syndrome, but it's an especially hard problem for women in STEM."
Facilitating conversation about the challenges faced by women in STEM is an important diversity goal of the CSNE. By providing insight from successful women in engineering, the Women's Career-Mentoring Lunch series is one of many efforts at the CSNE and within the UW that strive to support women. It reminds attendees that there are a variety of ways to enter STEM careers, and there are ways to achieve successful work-life balance.
"I just hope people see that there are women in STEM that have full and fulfilling lives, and [they] can be one of those people," Dr. Johnson said.
Information about future sessions of the Women's Career-Mentoring Lunch will be announced via email and on the CSNE website. For more information about the Women's Mentoring Lunch event series, contact Dr. Lise Johnson.