Thursday, August 28, 2014
Students at our center are gearing up to take part in the Perfect Pitch contest, which is sponsored by the National Science Foundation (NSF) and held during the Engineering Research Center (ERC) Biennial Meeting in Washington, D.C. The contest is designed to help undergrads and graduate students develop communication skills to clearly and concisely explain their research, covering the topic, potential problem they are addressing, solution they are developing and potential impact of the research.
Students are encouraged to avoid jargon, include a compelling image or diagram and use as few words as possible on one slide. This type of skill goes beyond the contest, and is critical for students who will one day pitch their work either in academia or industry, engineering or management.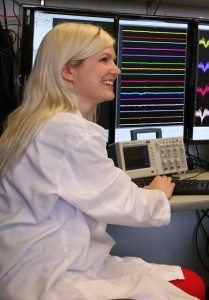 Aiva Ievins, graduate student at the University of Washington in the Department of Neurobiology & Behavior, won the grand prize at the first Perfect Pitch contest in 2012, after first winning the CSNE competition. In her pitch, Ievins described her work using the headline: Restoring limb function after spinal cord injury. She works in the lab of Chet Moritz, deputy director at the CSNE.
Her slide included a photo of the actor Christopher Reeve, who was paralyzed after falling off of a horse.
Ievins pitched a potential product, the Neurochip +, and described how the device records motor cortex activity and stimulates spinal sites at the same time. "It works as a prosthetic spinal cord," she explained during the competion in Seattle.
Ievins said the competition was great practice for presentations. "I do a lot of outreach," she said. "Being able to communicate science in an accessible way is important."
What advice would she share with others who try to perfect their Perfect Pitch? "Write out and memorize what you want to say," she said. "And have fun with it."
All undergraduate and graduate students who have some connection with the CSNE are eligible to participate, receive coaching through the Center and compete for prizes. Students have 90 seconds and one slide to pitch their neural engineering project to an audience of judges and observers. Students must be available to participate in-person or via Skype in coaching sessions. The CSNE competition starts at 2:30 p.m. PDT on Friday, September 19.
The student who wins the CSNE competition will represent our Center in the national competiton on October 27 and 28 in Washington, D.C. Travel and lodging costs will be covered by the CSNE.
Contact Rad Roberts if you have questions or would like to participate.