Friday, September 15, 2017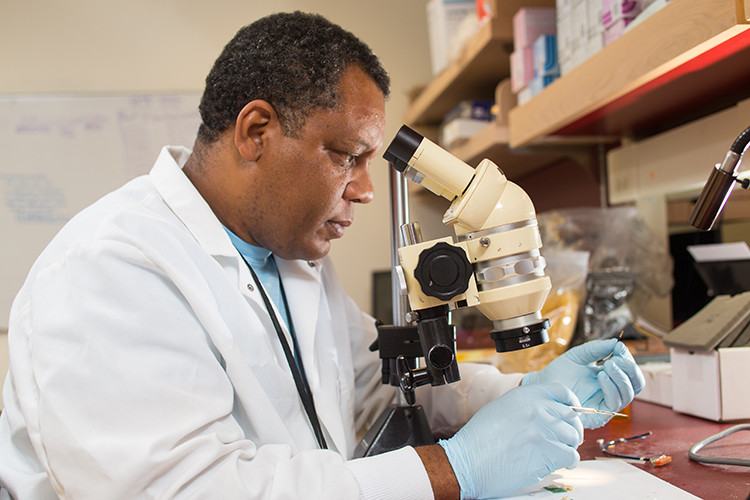 When Kevin Glymph, a pre-med senior at The Evergreen State College, was contacted by a professor to see if he might be interested in the 2017 Center for Sensorimotor Neural Engineering (CSNE) Research Experience for Veterans (REV) program, he already knew that he probably wouldn't fit the typical student profile. However, this didn't deter him from applying. After taking a close look at what the REV program had to offer, Glymph realized that this 10-week summer program at the University of Washington could help further his journey to medical school.
"I love pursuing things that look interesting, challenging and maybe outside of my comfort zone," Glymph said. "I'm not an engineer. That's not my background, but it [the REV program] seemed really interesting to me. I'm really keenly interested in anything that I think, even tangentially, moves me toward this goal [of going to medical school]."
After talking with the CSNE's University Education Manager, Lise Johnson, and being assured by her that the experience was meant for those with a pre-med focus as well as engineering majors, Glymph applied and was accepted into the program. Unbeknownst to him, his pre-med concentration, military service and personal background were viewed positively by the CSNE.
"The CSNE offers this program because we recognize that veterans will have something unique to contribute to the field. It can be difficult for veterans to break-in [to neural engineering], especially if they feel like they're behind because they've spent time doing military service," Johnson said. "We're really hoping to encourage people with these different backgrounds and viewpoints."
The value of background diversity and experience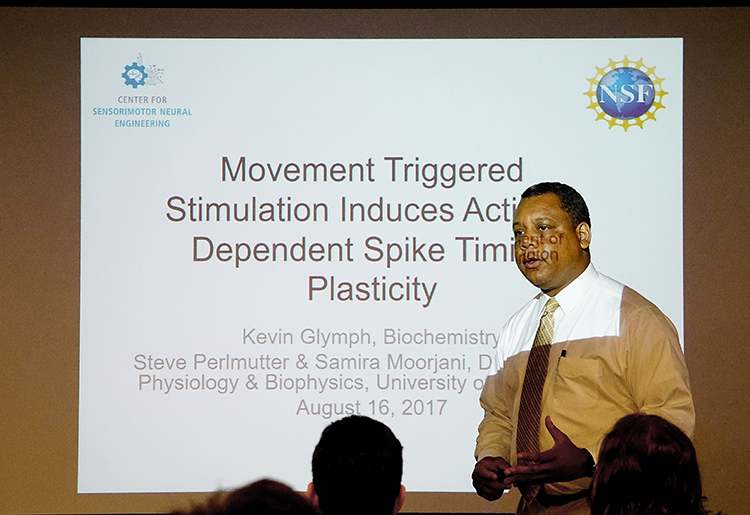 Glymph did indeed have a unique background. He attended Morehouse College after high school, where he earned his undergraduate degree in English. He then went on to serve 23 years in the Army, spending the first half his career as an Army Ranger and the second half as a linguist, translating Mandarin Chinese and Persian (Farsi). Although Glymph was trained primarily for combat, his experience in the army unexpectedly sparked and encouraged an interest in medicine.
"When I served the first part of my career as an Army Ranger, it was at a point of medical renaissance within the Army," Glymph said. "The Army, and probably the Department of Defense, had realized that soldiers who were dealing with the most dangerous aspects of soldiering, combat arms, are the ones who get most catastrophically injured, shot and face mortal injuries."
Glymph's superior officers had also recognized early-on that he had a gift for staying calm in a medical crisis, so they trained him to be a back-up medic for his combat unit. Glymph took well to the training and ended up getting his Emergency Medical Technician (EMT) certification, which he renewed each year throughout his military service. Treating combat injuries deepened Gylmph's interest in medicine, and it gave him a new and different kind of enemy to fight, pain itself.
"I don't care how burly you are, when you're in that kind of near-mortal pain we all just become children. In some ways it's tough to see," Glymph said. "When I think about medicine, I lean toward pain management aspects, maybe anesthesiology, something that will let me go after the pain people are dealing with when in desperate straits."
After he retired from military service, Glymph kept an eye out for a pre-med program that would be the right fit for him. He toured several different colleges and universities with his son, who graduated from high school around the same time Glymph retired from the Army. While he and his son were visiting The Evergreen State College, Glymph realized that although the school was not the right fit for his son, it was the right fit for him.
"I got accepted into some other schools, big names that have really renowned pre-med curriculums, programs and success rates, but at Evergreen, I found my tribe," Glymph said. "The level of ownership you could take…the school is very veteran-friendly, and with me being older and having a lot less confusion than I did in my 20s about what I want to do and how I want to do it…it was just the perfect fit for me."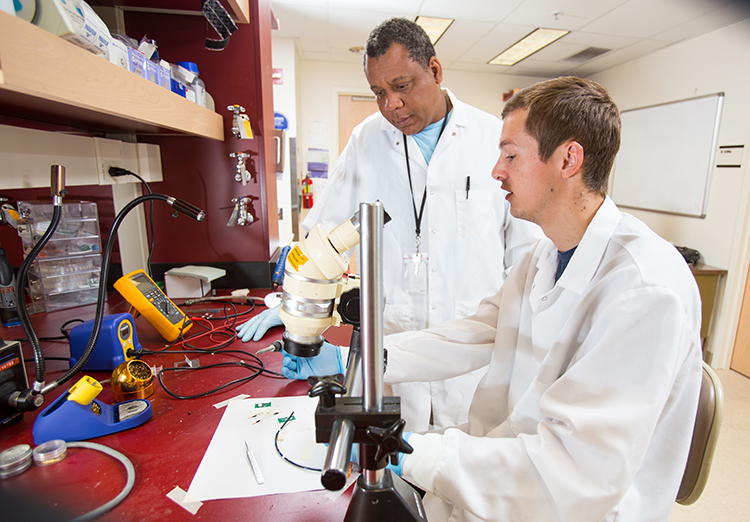 In the REV program, Glymph was placed in the lab of CSNE member, Steve Perlmutter, working on a research project that is part of the CSNE's ongoing effort to better understand and manipulate the neural plasticity that regulates connections between neurons in the brain. Long-term, this research is aimed at improving the quality of life of individuals with brain and spinal cord damage, including veterans who sustained these injuries in service to their country. Perlmutter noted that not only was Glymph benefitting from doing hands-on research through the REV program, but others in the lab were gaining from having Glymph work alongside them.
"I think interacting with someone with a very different background than yourself is educational, informative, helps you understand the world better and is almost always beneficial," Perlmutter said. "This has certainly been the case having Kevin in the lab. I think we've all enjoyed hearing about his experiences and learning about his perspective on biomedical research and medicine. He has colleagues who have been affected by brain and spinal cord injury more than most of us."
Strong motivation, mentors and perseverance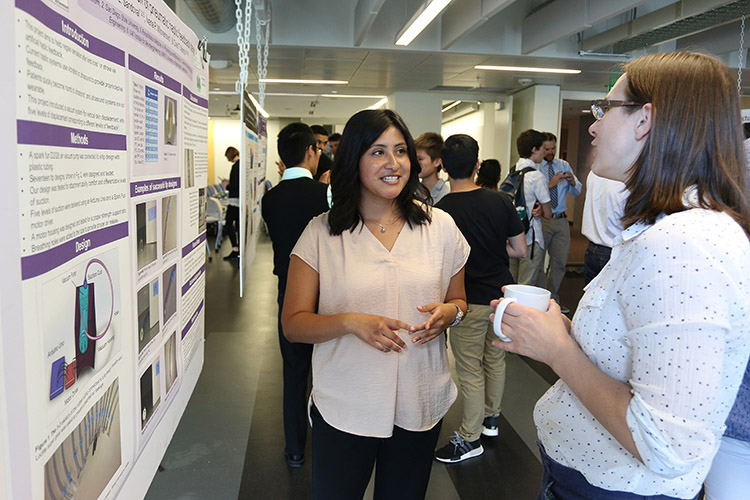 Like Glymph, Laura Sandoval, REV program participant and senior in mechanical engineering at San Diego State University, was also motivated to explore neural engineering by her military experience. Sandoval is a first-generation college student who served two years on an aircraft carrier in the Navy as a machinist's mate. While in the Navy, Sandoval discovered that she loved doing mechanical work, and her duties sparked an interest in the design of the equipment she was working on. She found herself often thinking about better ways to design the machinery she maintained.
She also spent time with soldiers, marines and sailors who were being medically evacuated from areas of conflict. These individuals were young, usually 18 to 19 years old, and they had experienced severe bodily trauma, such as limb loss and traumatic brain injuries. The time she spent with these people deeply impacted Sandoval and helped ignite a strong interest in biomedical engineering.
"There was one moment that really stood out to me. There was a young man who was recently [traumatically injured], and he had been out of consciousness through the flight because of his injuries," Sandoval recalled. "When he woke up he saw his Mom, and he was so happy to see her. He reached out to try to hug her, and he realized that he was missing [his limbs]. That made everybody super-emotional, but we tried to suppress it to not make him feel worse. That, along with some other things, really made me want to major in biomedical engineering."
Sandoval ended up choosing mechanical engineering as her major, because she found out that she could move from undergraduate work in mechanical engineering to biomedical engineering at the graduate level. She eventually wants to go into biomedical engineering as a career, hopefully into developing prosthetics.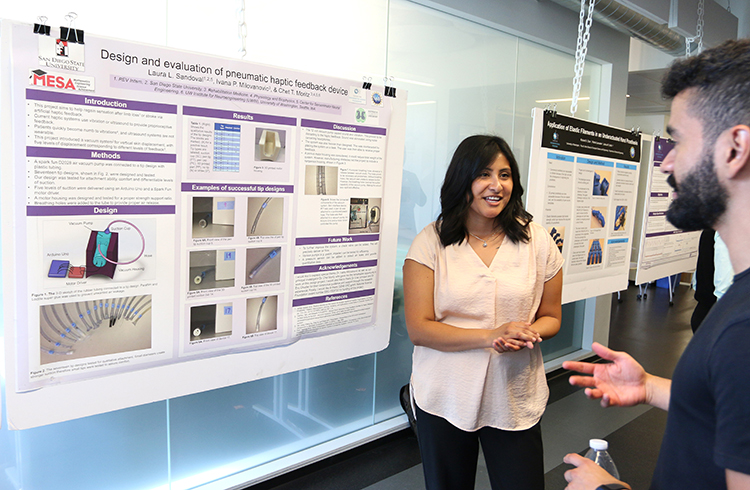 In the REV program, Sandoval's research project was focused on contributing toward developing a novel sensory feedback system for stroke patients. This system is designed to give the patient a better sense of where their weak or injured arm is in space relative to the rest of their body, improving proprioception.
"This is actually putting my skills in my major to work in neural engineering, instead of just engineering or just neuroscience," Sandoval said. "This is combining everything that I'd like to do and pursue."
Sandoval also talked about how much she appreciated the strong female role models and mentorship she was given through the REV program and the CSNE.
"I'm very thankful for these experiences, like the women's mentorship sessions. A lot of times, like when I was in the Navy, there were no women working in there [with me]. Going to some of my engineering classes, there's more women who are in the classes [than in the Navy], but not nearly enough or equal to the actual class size," Sandoval said. "So, I appreciate the mentoring sessions where women who have gotten PhDs and are now PIs (principal investigators) talk to us about their research and experiences in the field. I appreciate that they come in and talk about their struggles and how they overcame them."
Learning how to overcome tough obstacles is considered basic, preparatory training for serving in the armed forces. The REV program helps to prepare veterans like Sandoval and Glymph for the next stage of their educational and career journeys after the military, whether that might be graduate school, medical school or re-joining the workforce. In return, these student veterans bring unique perspectives, perseverance and a willingness to work hard toward their goals, which often is motivated, created and informed by their military experience.
"I feel like that's a large part of why [I'm drawn] to engineering, because I'm always thinking about the next step, preparation towards what's going to happen next, and if it doesn't work out, how do I fix it and not just give up? Persevere to find an answer," Sandoval said. "That happens a lot in engineering, problem-solving and [the need to] just keep looking for an answer. If something goes wrong, I just adjust it and go with the punches."
For more information about the REV program visit the program webpage or contact Dr. Eric Chudler, CSNE Education Director.