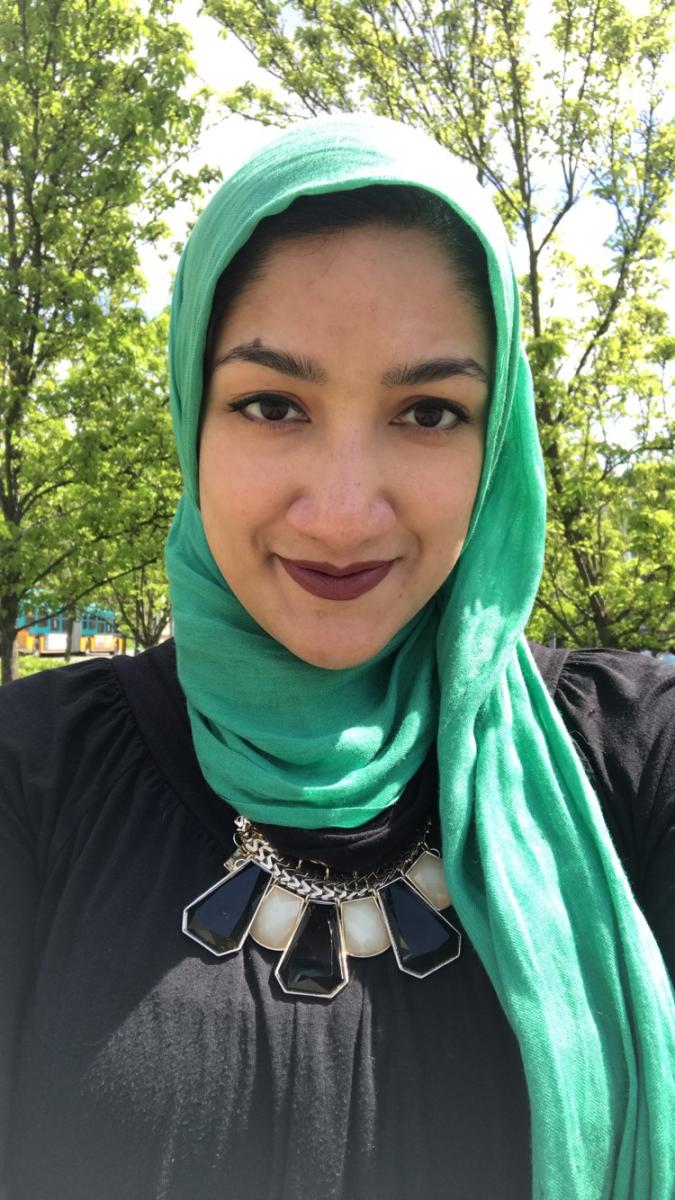 Juhi Farooqui did not know that the field of neural engineering existed – until she put together a Google query that captured her interest in neuroscience and its application in research.
"The search was born out of my love for neuroscience – a fascination with the nervous system and the many levels and models by which it could be conceptualized – as well as a desire to ultimately be engaged with the application of scientific knowledge to tangible issues," Farooqui stated in a letter of interest.
Farooqui's search brought up a few articles about the Center for Sensorimotor Neural Engineering (CSNE), a National Science Foundation Engineering Research Center that creates technology aimed at helping the body heal, feel and move again. Farooqui became particularly interested in the research of Chet Moritz, the CSNE's faculty deputy director at the University of Washington (UW). Moritz' projects focus on creating neuroprosthetic devices that can bypass damaged spinal cord neurons and restore movement of paralyzed limbs. It was this brief exposure to the Center, coupled with Farooqui's existing interest in the Center's values of interdisciplinarity and proactive consideration of ethics, that led her to apply for and secure participation in a six-month postbaccalaureate (postbac) program with the Center.
"The CSNE brought me to Seattle, and my imagination brought me to the CSNE," Farooqui said.
Postbac programs as a stepping stone for future careers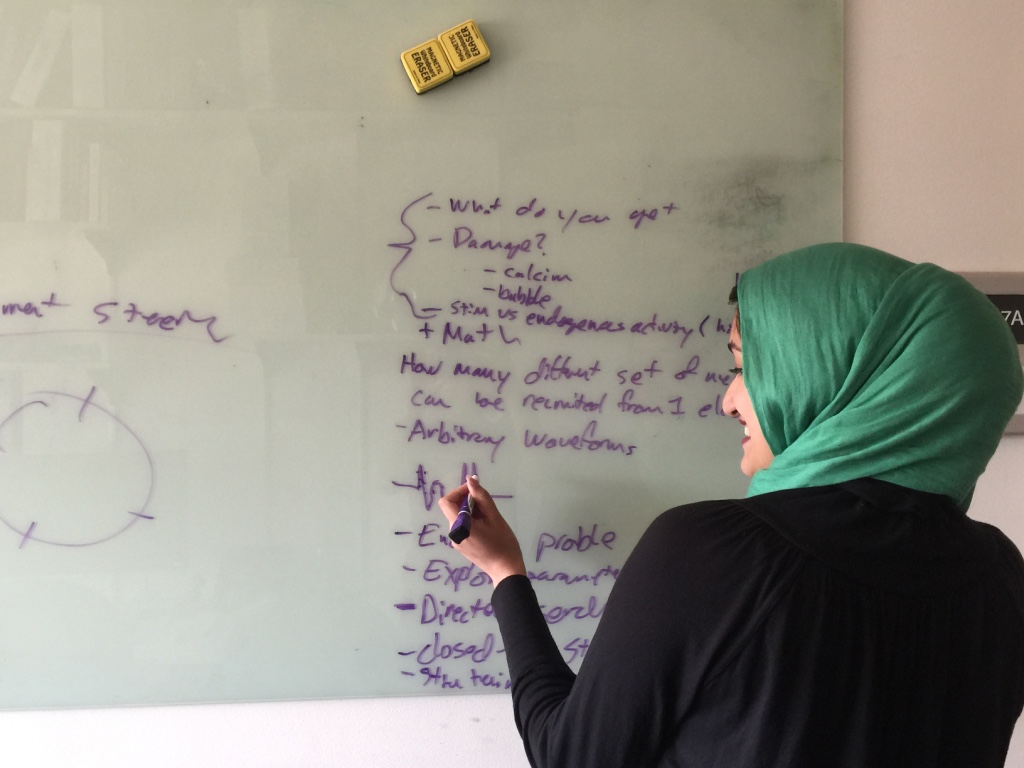 Postbac programs are open to students who completed their undergraduate degrees but want to explore potential disciplines of interest for future graduate programs or careers.
"The CSNE postbac program provides academic and research experiences to students so they can build their academic records, and gain new skills they need to develop a competitive graduate school application," said Eric Chudler, the CSNE executive director and education director.
In Farooqui's case, this program allows her to explore areas of neural engineering she may want to pursue in the future. Prior to arriving at the Center this February, Farooqui graduated from Rutgers University with a bachelor's degree in Cell Biology and Neuroscience and minors in Computer Science and Cognitive Science. Additionally, she has extensive lab research experience, and her recent project focused on functional connectivity in the cortex.
"Juhi expressed a fascination with the field of neural engineering and possibilities that research in this area had to offer," Chudler said. "These characteristics made Juhi an excellent fit for the CSNE."
In addition to supporting Farooqui's research and tuition costs, the postbac program offers a wealth of resources, such as opportunities to meet with experts in neural engineering like Moritz, access to community events like the Kavli BRAIN coffee hours, seminars on topics ranging from end-user roundtables to neuroethics, student-run Rextravaganzas, and facilities with resources like 3-D printers and other supplies. These resources allow postbac students like Farooqui to engage with students and professionals in a variety of engineering disciplines that are represented at the CSNE.
"There are a wealth of programs that people can apply to [as] their home department. You can be any flavor of engineer, scientist or biologist and still work with the Center," said Katherine Pratt, the first CSNE postbac student and current PhD student in the UW Department of Electrical and Computer Engineering. "It gives them the autonomy to explore what you need to explore … If you need help and resources, there [are] people you can ask."
Bringing values of applied science, interdisciplinary collaboration and end-user awareness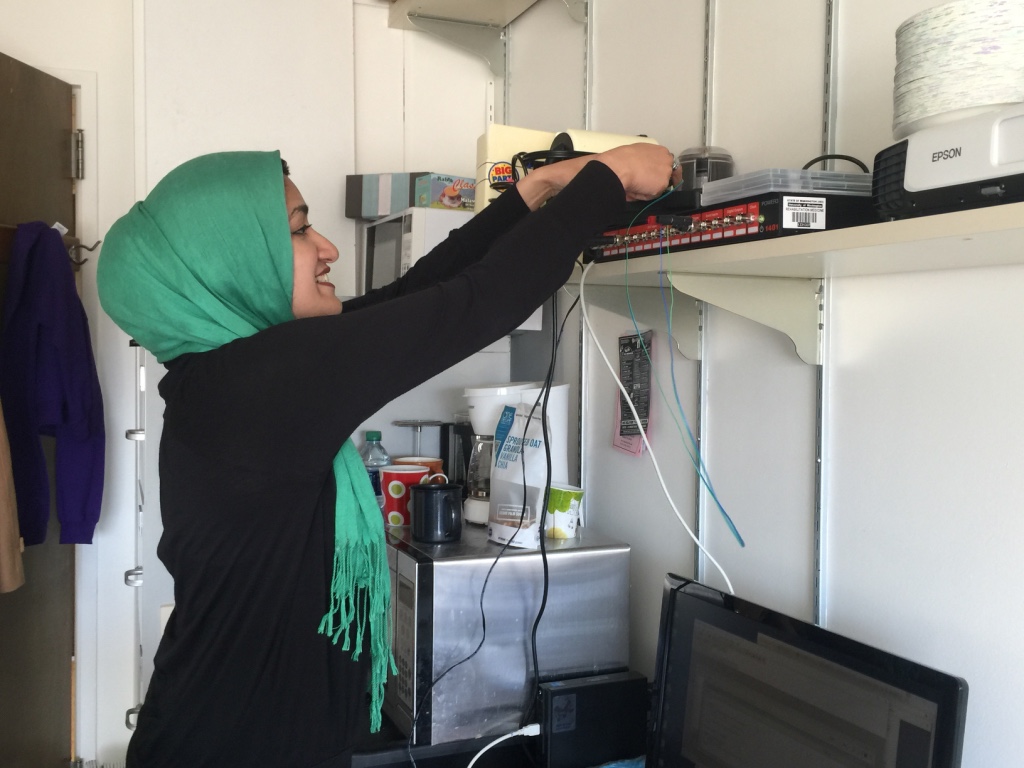 Although Farooqui enjoyed the problem-solving nature of the computer science and neuroscience coursework at her undergraduate institution, she wanted to apply these principles in a way that could meet a long-term goal of improving people's quality of life. This fueled her interest in the CSNE's research and its focus on integrating technology and the body's nervous system to restore physiological function.
"I wanted to know that whatever I would do would have a real impact on people and the world," Farooqui said. "I figured the way to bridge this to science was to find real-world applications that are compelling and worthwhile."
As a current postbac student at the CSNE, Farooqui works on projects in Moritz's lab while taking a course at the UW on digital design of circuits and systems, and a course on signal processing.
Farooqui is drawn to the Center's interdisciplinary perspective and its commitment to actively consider the ethical implications of every project, which aligns with her personal values. Farooqui also noted that everyone in Moritz's lab is motivated by a desire to improve the quality of life of patients with spinal cord injuries (SCI).
"All of this work is happening in a very purposeful way," Farooqui said. "We're united by this common goal of trying to create technology in a direction that is going to have a serious impact on people's lives, [and] their ability to recover from serious injuries and illnesses."
Farooqui is working on a number of projects in her lab, and her main one focuses on restoring bladder function in SCI patients. The pursuit of this project occurred in direct response to the needs of SCI patients, who cited their desire to retain bladder autonomy as more important than their desire to walk again. Additionally, Farooqui took an undergraduate course on this subject with Dr. Wise Young, a prominent spinal cord researcher, so she was familiar with the topic prior to arriving at the CSNE.
"One of the things [Dr. Young] had emphasized was the importance of what patients want and are looking for out of recovery," Farooqui said. "That instantly connected when I heard [of] the project I was working on because this is something important to patients who have spinal cord injuries. It's a really motivating project because there's such a strong reason to pursue it."
Actively seeking an education by creating opportunities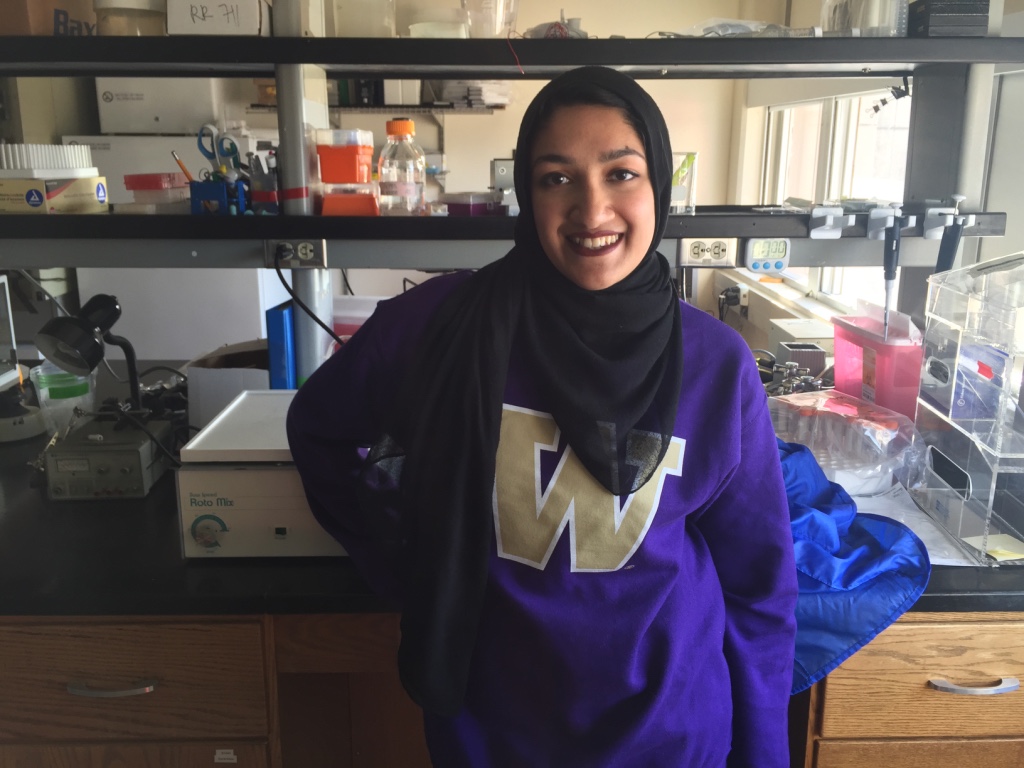 Farooqui described her journey from Rutgers to the CSNE as a series of happy coincidences, as well as a commitment to actively seeking the education she wanted.
"I have tried to maintain a mindset throughout my educational career of pursuing educational opportunities not just for the diploma outcome, but so I can genuinely come out of it having gained something," Farooqui said.
Although Farooqui was initially unsure about what to expect from this program, especially after leaving her home in New Jersey to live in Seattle, she has felt incredibly supported by the CSNE staff as well as her lab mates.
"I was really struck by how friendly and welcoming and open everyone was from the moment I stepped in the Center for the first time, or stepped into the lab for the first time," Farooqui said. "[Until I got here,] I didn't fully realize how much of a community [had] grown around this Center and its mission. I feel very lucky to have become part of that."
Farooqui hopes that this program will help her find some clarity about what direction she wants to take on next. For now, she's trying to develop her engineering skill set, and use this program as an opportunity to learn from the collective experience and knowledge of her mentors at the Center.
Pratt echoed Farooqui's sentiment about the value of gaining exposure to fields of interest through research or academic programs. For example, Pratt noted that working in Howard Chizeck's BioRobotics Lab during the postbac program provided insight about projects she could pursue as a matriculated graduate student. Pratt's main advice for people considering postbac programs, or trying to gain clarity about long-term career goals, is to actively seek the education you want by creating opportunities.
"The big lesson is, if you don't see what you want, ask for it," Pratt said.
Ultimately, Farooqui is excited to keep learning as much as she can in this postbac program and shift to a problem-solving focus in her work. During her studies and research at the CSNE, Farooqui hopes to take this program one step at a time.
"I've tried to not restrain myself by trying to plan out every step of the next five years of my life in favor of taking each opportunity as it becomes available to me, and using that to direct the next step that I will take," Farooqui said.
To learn more about the CSNE postbac program, please contact Eric Chudler.