Monday, September 22, 2014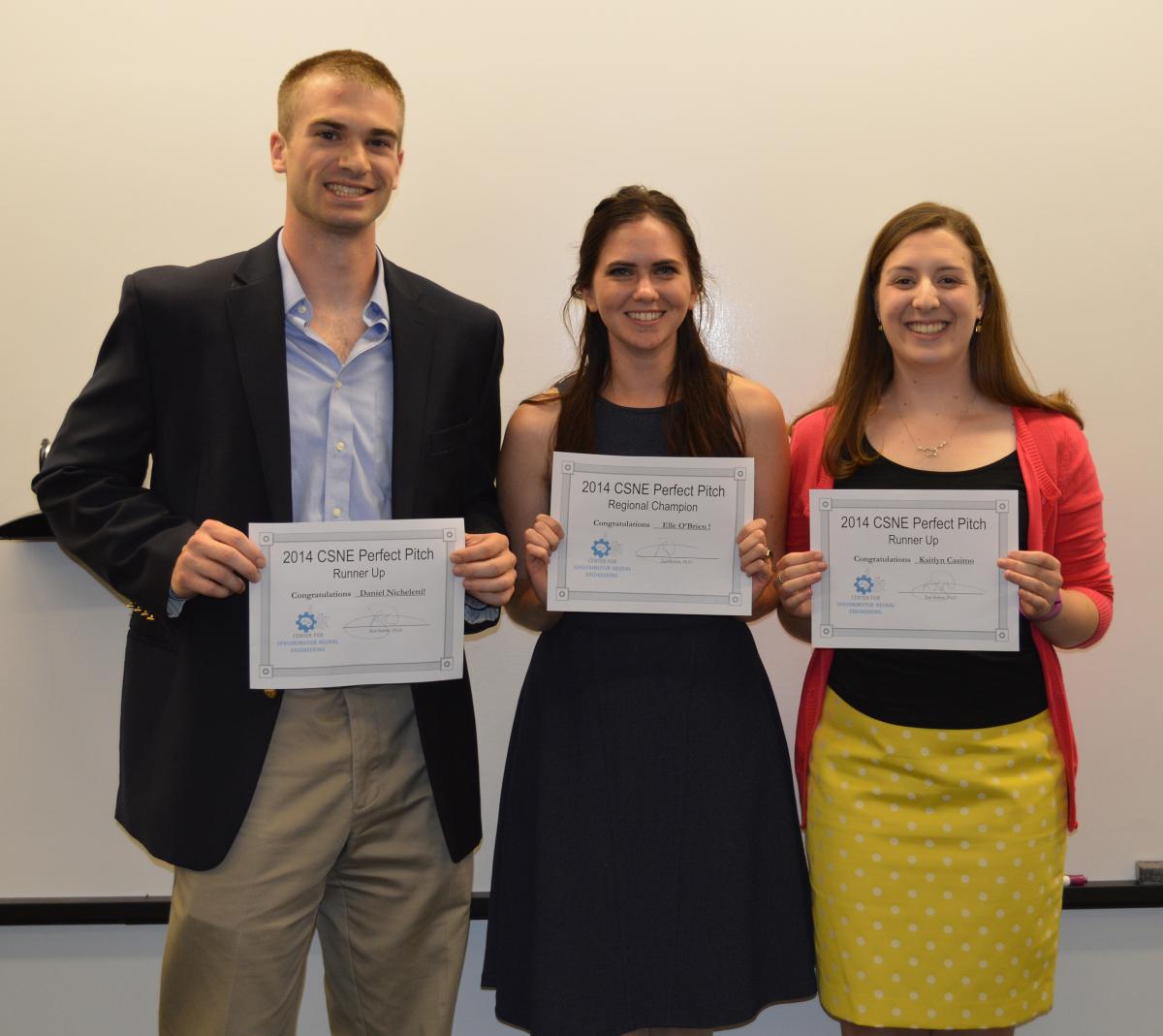 University of Washington's Elle O'Brien (pictured, center) won the Perfect Pitch competition last week at the Center for Sensorimotor Neural Engineering in Seattle. O'Brien was one of six students competing for the prize, which includes a trip to Washington, D.C. next month to compete in the national Perfect Pitch competition, sponsored by the National Science Foundation.
O'Brien is a graduate student in Neurobiology and Behavior and works in the lab of Jay Rubinstein, a world-renowned physician and researcher who specializes in cochlear implants.
Students taking part in this contest must explain their research, covering the potential problem they are addressing, solution they are developing and potential impact of the research, all in just 90 seconds.
They are encouraged to avoid jargon, include a compelling image or diagram and use as few words as possible on one slide. O'Brien kicked off her talk by explaining how a cochlear implant works:
"Imagine turning on your favorite song only to hear static. Or imagine that the voices most familiar to you suddenly sounded robotic. If you lost your hearing, a cochlear implant would allow you to understand speech in a quiet room."
How did it feel to win? O'Brien said she felt deeply satisfied. "In truth, I have been struggling for years to get the 'elevator pitch' right, so I can finally explain to my grandparents that I'm not a neurologist or an ear surgeon," she said. "This contest forced me to get that pitch right, and now that I know it works, I'm going to call up my grandma and read it to her."
Runners-up were Daniel Micheletti, graduate student in Electrical Engineering, and Kaitlyn Casimo, also a graduate student in Neurobiology and Behavior.
O'Brien was the recipient earlier this year of a NSF Graduate Research Fellowship. She was one of 2,000 graduate students who received the award out of more than 14,000 applicants.