Thursday, December 15, 2016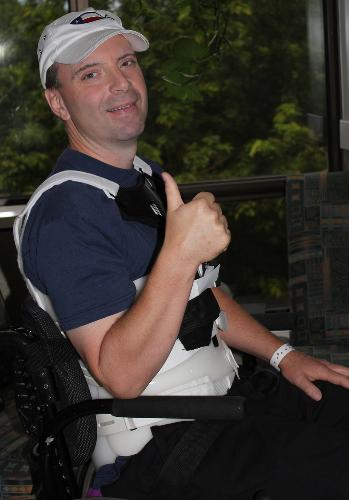 Dr. Brent "Smokey" Weinhandl profoundly loves working with patients, family and staff at Brook Trout Dental, his dental practice in Casper, Wyoming. However, after a camping accident left him with a traumatic spinal cord injury, broken back, three broken ribs and a cracked sternum, he struggled to return to his life as a dentist. Dr. Weinhandl successfully received treatment at the Wyoming Medical Center and the Craig Hospital, and the experiences of other patients he met there stood out to him. Many of the patients with spinal cord injuries were young men between the ages of 18 and 24.
"I was one of the older patients [at the rehabilitation hospital], and I saw many young men trying to make sense of [their] injuries," Weinhandl said. "When I thought about how I had 20 years over them in the respect that I completed my education, married my wife, and developed my business and achieved some financial security, I really needed to consider myself fortunate ... I would love to see these current men [with spinal cord injuries] liberated from their current condition and to enjoy all of the excitement that life brings."
Dr. Weinhandl's injury confined him to a wheelchair, which took a toll on his emotional well-being. Amid intense emotions of grief and depression, he found solace in his faith as a devout Christian. After his injury, he also spent time looking into advancements in neural engineering research and brain-computer interfaces, which is how he found out about the Center for Sensorimotor Neural Engineering (CSNE).
"I was trained in science, and I never lost that perspective of science and the confidence I have in science's slow progression and its triumph. It offered hope," Dr. Weinhandl said. "Hearing [about] these breakthroughs and trying to understand them from a laymen's perspective has been nothing but encouraging for me and also for my peers."
After discovering the Center's projects and its commitment to improving the lives of people with spinal cord injuries, he decided to donate to the CSNE to support research on bi-directional brain-computer interfaces. This technology, coupled with research on sensory feedback and guided by neuroethics, promises to improve quality of life for people with spinal cord injuries, stroke and other neurological disorders.
Prior to his accident, Dr. Weinhandl purchased a new office building for his dental practice and worked with a contractor to create a space that was welcoming for anyone.
"I wanted my office to be accessible to everyone, whether they're in a stretcher chair or wheelchair," Dr. Weinhandl said. "I made sure there was space in the office so anyone could come in and be my patient. I never suspected that I would be the one in the wheelchair in the office."
With a few adjustments to his office space and a new set of dental equipment tools courtesy of the American Dental Equipment Corporation, Dr. Weinhandl was able to return to work and support patients through his practice. Additionally, he encourages people to support scientific progress through donations to research centers like the CSNE.
"The CSNE is looking for new solutions to help people with damage to their nervous system, especially people with spinal cord injuries and stroke. Many people might have a friend or family member with one of these injuries," said Dr. Eric Chudler, executive director of the CSNE. "The CSNE is doing research to develop novel treatments for these disorders and educating the next generation of scientists and engineers to continue this work."
After donating, Dr. Weinhandl said he received a call from Center staff detailing the use of his money, and he was impressed with the CSNE's follow-up and commitment to educating donors about the application of their funds.
"I believe that every dollar is worth something. Ten dollars to me is a lot of money. To send $5,000 like we did, we were happy to do it, but it's not a lot of money in the research world," Dr. Weinhandl said. "We've just been very surprised but pleased by the attention paid to us as donors. I don't really know if we deserve that. It's been helpful to know how the money is being applied and the successes that are being pioneered there [at the CSNE], and we've been informed along the way of the discoveries."
The CSNE's main source of funding comes from the National Science Foundation (NSF), which supports graduate student research on CSNE-related projects, as well as education and training. However, not all research and education projects are covered by NSF funding, and donations are integral for filling this gap.
Dr. Weinhandl's donation went to the CSNE Strategic Fund, which supports research, educational outreach and community events not otherwise financed by grant funding. Donors can also give online to the CSNE Neuroethics Fund, which supports research into the ethical issues surrounding neurotechnologies and its impact on people.
Dr. Weinhandl said that supporting CSNE research provided a sense of hope for him and other people in similar situations. Maintaining meaningful relationships in his work and personal life were also key to his recovery.
"With a few modifications, I was able to return to work. My office became as busy as possible, and many patients returned to the practice. I really enjoy being able to visit with people," Dr. Weinhandl said. "I've developed relationships with families. I've seen young kids grow up to be teenagers, and teenagers grow up, get married and have children. I really enjoy being able to develop personal relationships, and that has been integral to returning to my normal life."
You can help make a difference in the lives of those who have been impacted by spinal cord injury, like Dr. Weinhandl, by giving to the CSNE.
"Donating can help people outside the CSNE be part of the research endeavor," Dr. Chudler said. "Although they are not conducting the research themselves, donors can feel empowered in that they are helping the field of neural engineering move forward and getting us all closer to finding a solution [for] sensorimotor disorders."
For more information about supporting the CSNE and its mission to help the body heal, feel and move again, please contact Deborah Harper.